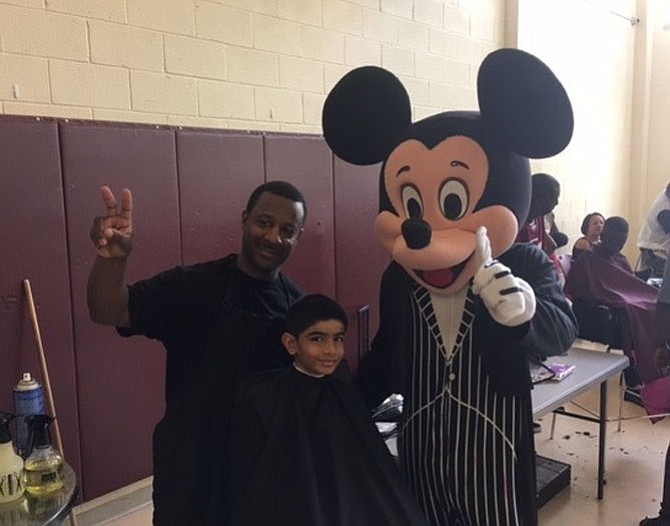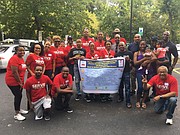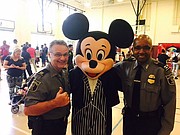 "Not only were we preparing the kids for the upcoming school year but we made it a fun day for them." — Councilman and Community Day Organizer Willie Bailey
City organizations partnered Aug. 27 at two locations for a Community Day to provide free backpacks and school supplies for boys and girls to prepare them for the new school year.
"This past Sunday we were at two different locations in Alexandria distributing backpacks and giving away free haircuts," said City Councilman Willie Bailey, an organizer of the event. "We were at Charles Houston Community Center in the morning, where we gave away over 500 backpacks, gave over 100 free haircuts, and distributed donated clothing and food."
The first event was held at the Charles Houston Recreation Center, where free haircuts as well as clowns, face painting, a DJ and Caring Angels Therapy Dogs were part of the Community Day.
"This was the largest event we have had at the center because we invited families from the neighborhood and not just kids attending the Charles Houston community center," Bailey said.
In the West End, a Community Day was held at Brent Place Apartments. In addition to backpacks and school supplies, a cookout was held at this location.
"At Brent Place we gave away over 200 backpacks and also clothes and shoes," Bailey said. "We did not provide haircuts at this location but we also grilled hotdogs for the families."
Both events were made possible by the following partners: Firefighters and Friends to the Rescue; City of Alexandria Parks & Recreation; Alexandria Fire Department; Alexandria Police Department; Alexandria Sheriff's Office; Apple Federal Credit Union; Community Praise Church; Jack Taylor's Toyota; Caring Angels Therapy Dogs; Code 3 Association; Goodwin House Alexandria Chapel Outreach; Local 2141; Omega Psi Phi Fraternity, PSI NU Chapter; Departmental Progressive Club; BFSP of Alexandria; Department of Emergency Communications; and Whole Foods.
"Not only were we preparing the kids for the upcoming school year but we made it a fun day for them," Bailey said. "We provided clowns, Mickey Mouse, the Caring Angels Therapy Dogs, face painting, DJ, and public safety vehicles to view. We wanted to make sure the kids start off the school year looking good, feeling good, and with the needed school supplies so that they will do good."