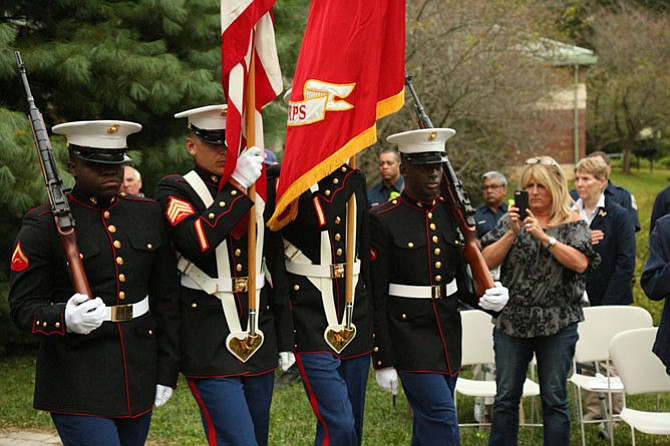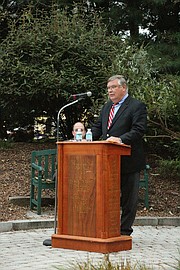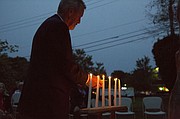 The Great Falls 9/11 Honor Roll
Ann Judge

Barbara Olson

Diane Simmons

George Simmons

Lisa Raines

Retired Marine Corp. 1st Lt. Richard Gabriel
As "God Bless America" echoed throughout the plaza at the Great Falls Freedom Memorial, six white candles burned brightly to honor the six Great Falls residents who died at the Pentagon during the 9/11 terrorist attacks 16 years ago.
"Sixteen years ago, we suffered the worst terrorist attack in our country's history," Andy Wilson, president of the Friends of the Great Falls Freedom Memorial, said during his opening remarks during the 9/11 ceremony at the Great Falls Freedom Memorial. "Nineteen terrorists hoped to bring our country to its knees, and while we will forever mourn those losses, we can also look at the strength and courage displayed by many people on that day."
"Today marks a tragic day in our history," John "Sandy" Pidgeon, Jr., vice president of the Friends of the Great Falls Freedom Memorial, said during the invocation at the beginning of the ceremony. "Let us be humble and humble ourselves and remember our fallen brothers and sisters from our community that suffered one of the greatest losses in all of America on 9/11, 2001, 16 years ago. Our minds are forever etched at where we all were that day."
James Roberts of Great Falls, the ceremony's keynote speaker, remembered the chaos of that day. The president of the American Studies Center, founder of the American Veterans Center and founder and president of Radio America recalled his experience for the crowd.
"Sept. 11, 2001, like Dec. 7, 1941, is a day that will live in infamy," Roberts said. "Indeed, more lives were lost on 9/11 than at Pearl Harbor."
HE REMEMBERED talking on the phone with his wife who was frantic as she was responsible for picking up their four children who were at four different schools that had all closed for the day after news of the terrorist attacks spread. She was also tasked with retrieving their friend's three children because their mother was stranded in Dallas after her flight was canceled when every airport in the country shut down.
"Two of the six Great Falls residents killed in the attacks—George and Diane Simmons—lived just three blocks from our home," Roberts said.
He was also seated next to another local victim, Barbara Olsen, during a banquet they both attended two months before 9/11.
"The horrible ordeal … has never left my mind and never will," he said.
Alan Nathan, a talk show host who was syndicated by Radio America, called in during a broadcast after he witnessed American Airlines Flight 77 fly over his car and into the Pentagon. Robert's played the audio from the broadcast for the crowd.
"I'm on the highway on my cellphone," Nathan said. "I just watched a plane crash near the Pentagon near the Memorial Bridge exit off of [Interstate] 395 northbound. I just saw it. It crashed in front of me. I saw the plane crash right before my eyes. Smoke is billowing all around this area. It was an amazing explosion of fire and metal."
Roberts recalled an emotional day of fear, hysteria and anger as Americans learned what had happened.
"We were just overwhelmed … It was just absolute chaos," Roberts said of the reports that rolled into his radio network that day.
He told the crowd that America had been fighting terrorism for the last 16 years with no end in sight, and that radical Muslim terrorist groups like ISIS continue to radicalize and threaten the world.
"Sitting out the struggle is not an option," Roberts said.
HE ADVOCATED to those listening to lobby their local leaders — U.S. Rep. Barbara Comstock, R-10; Del. Kathleen Murphy, D-34; and Dranesville District Supervisor John Foust in the audience — to provide enough resources to a "strained-to-the-breaking-point" military that will allow it to prevail over terrorism.
"We must make a solemn vow that those who made the ultimate sacrifice did not die in vain," Roberts concluded.
As Erin Gantt of Great Falls sang "God Bless America," candles were lit at the center of the memorial to honor the six Great Falls residents who paid that price. Taps was also played on the trumpet by Steven Pastore as the crowd held their lit candles, reflecting on the tragedy that shook their community 16 years ago.