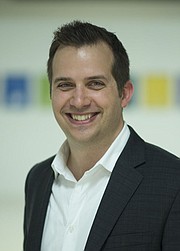 The Alexandria Symphony Orchestra presents an unusual season this year, featuring four final candidates for music director. The finalists are diverse, conducting symphonies from Xalapa, Mexico to Lucena, Spain — from the Los Angeles Philharmonic to the Washington National Opera. One final candidate will be chosen as the ASO's next music director to conduct the 75th anniversary season in 2018-2019.
Opening the season is Michael Rossi, founder and artistic director of the Miami Summer Music Festival. Recognized as a rising star among young conductors, Maestro Rossi presents a program of love and longing on Sept. 23 and 24. Richard Strauss' signature tone poem of the legendary lover, "Don Juan," features the ASO's stellar brass section. Wagner's star-crossed lovers shine in excerpts from "Tristan und Isolde." A signature of Beethoven himself, at his stormiest and most heroic, the program concludes with his Symphony No. 5 in C Minor. Rossi, himself an accomplished trumpet player, began his career in the Kennedy Center Opera Orchestra and is a graduate of the Washington National Opera's esteemed Domingo-Cafritz Young Artist Program.
"The music of Richard Wagner has always had a special place in my heart," says Rossi. "During my 15 years at the Washington National Opera, I have had the wonderful opportunity to perform a majority of Wagner's greatest music in the orchestra and learn from the best Wagnerian conductors and singers." This fascination with Wagner inspired Rossi to form the Wagner Institute for Professional Singers which is now in its third year and drawing singers across the world as well as mentors such as Christine Goerke and Alan Held.
Maestro Rossi is following the path of many conductors who began their careers first as instrumentalists. At the age of 22, he won the position of Second Trumpet in the Kennedy Center Opera House Orchestra. He has conducted the world's leading orchestras including the Philadelphia Orchestra, Baltimore Symphony and the Orquesta Sinfónica de Xalapa. As an opera conductor he made his international debut conducting Plácido Domingo and the Chinese National Opera Orchestra in Beijing in a live television broadcast, and his Washington National Opera Main Stage Debut conducting Mozart's "Le Nozze di Figaro."
Concert attendees, musicians and community members will be invited to provide feedback after each performance in order to assess the four final candidates. The ASO plans to announce the new music director following the final concert set of the season, and special events are planned to introduce him to Alexandria and the surrounding community.
The Alexandria Symphony is a fully-professional orchestra drawing from the Washington, D.C. metropolitan region's wealth of musical talent. Many musicians perform with other orchestras and top military bands. The ASO performs Saturdays at Rachel M. Schlesinger Concert Hall and Arts Center and Sunday matinees at the George Washington Masonic Memorial. Adult subscriptions start at $65 with $20-$80 adult tickets, $5 youth, and $10 student and military, senior and group discounts available. To order tickets and for more information, visit www.alexsym.org or call 703-548-0885.