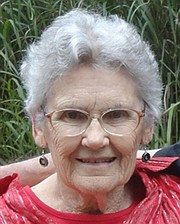 Muriel S. Lipp, 91, died of congestive heart failure on Wednesday, Sept. 6, 2017. She is survived by her husband of 63 years, Edward Lipp. They have been residents for the past six years of The Lutheran Village at Rockville. Previously they lived for half a century in the Tauxemont section of Fairfax County.
Muriel Steffy Lipp was born in Denver, Pa., to Milton and Zoe Fry Steffy. She graduated with a degree in journalism from Temple University, where she met her husband. She worked as a proofreader and reporter for The Lancaster New Era, and was on the editorial staff of Presbyterian Life in Philadelphia, Macmillan Publishers in New York, and The General Commission on Chaplains in Washington, D.C.
As a mother of four, she was active in community affairs. She was a Cub Scout den mother and Campfire Girls leader. She served as president of the Tauxemont Community Preschool, and also in various positions on the Tauxemont Community Board. She obtained a teaching certificate from the University of Virginia and taught elementary students in the Fairfax County Public Schools for 10 years. She later guided adults in obtaining high school equivalency diplomas.
Her true love was her church, in which she was quite active. She was an early member of The Church of the Saviour in Washington in the 1950s, and later a founding member of Seekers Church in Takoma Park.
She was a prolific writer, publishing many poems, children's stories, and articles, in addition to two books: "Secrets of the Forest" and "History of Denver, Pennsylvania." Many of her stories were inspired by her own children and the children she was teaching.
In addition to her husband, she is survived by three daughters: Ellen Kinsella (Kevin), Millersville, Md.; Kathryn Lipp-Farr (Robert Farr), Arlington, Va.; and Anne Lipp (Christine Schubert), Silver Spring, Md.; five grandchildren: Ryan Kinsella (Laura), Jacqueline Kinsella, Lawrence Kinsella, Nicholas Farr, and Kathryn Farr; a brother, Milton Steffy (Lavonne), Denver, Pa.; and loving nieces and nephews. A brother, J. Richard Steffy, died in 2007, and a son, Edmund, died in 1982.
Donations in her honor may be made to Seekers Church, 276 Carroll St. NW, Washington, DC 20012. Memorial services will be held at a date to be announced in the future.