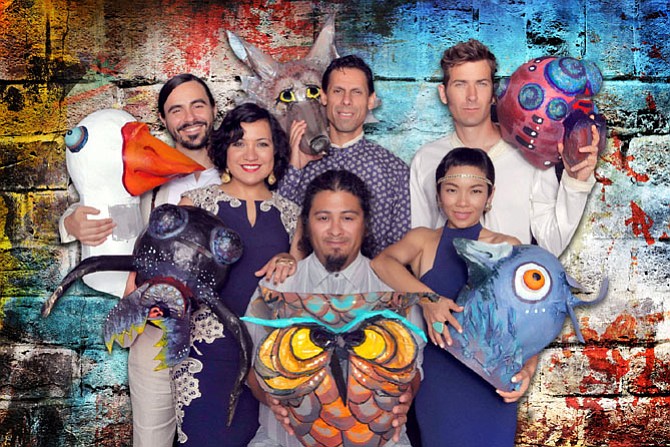 Where and When
Reston Community Center/CenterStage presents Quetzal at the Hunters Woods Village Center, 2310 Colts Neck Road, Reston. Performance: Sunday, Oct. 1 at 3 p.m. Tickets $20-$30. Call 703-476-4500 or visit http://www.reston...">www.restoncommuni...
"Expect to hear thoughtful and creative songs about a love for humanity, justice and environmental consciousness," said Quetzal Flores about the upcoming performance of the musical group Quetzal at Reston's CenterStage. The group aims to provide "a regenerative sense of hope and inspiration."
Flores went on to say that the "Quetzal musical style is a blend of Mexican and American folk. We are particularly influenced by Black music from both cultures."
For those not familiar with Quetzal, it is a bilingual (Spanish-English) musical group that began in East Los Angeles, Calif. Quetzal is known for creative tunes that aim to have listeners want to dance and think about community activism for positive social change.
"Art and culture in general, stimulates and incites creative and critical thought," said Flores. "Our intention is never to bombard folks with messages, but to present lived realities in hopes that we can build points of connection."
Connecting music directly to stir social activism, Flores noted that "It's an endless cycle of reciprocity. The more we mirror real life and imaginary experiences the more we feel nods of validation that in turn gives us permission to continue."
As an example of Quetzal lyrics, Flores spoke of a recently released song titled "The Eternal Getdown." The song asks "beyond the picket, the boycott and the trend that will soon be abated. That all of these deaths are interrelated. Ferguson, Emmit, Guerrero, and Brown. How do we initiate our people into the Eternal Getdown?"
Flores went on to note, "In other words how do we get to the point where our humanity can thrive in the face of brutality? How do we look to what exists in our communities already to build a perpetual state of 'Getting Down' or 'Being Down?'"
For Flores she would like CenterStage audiences to be curious about the music, message and social activism of Quetzal.
"I chose Quetzal to open the 2017-2018 Professional Touring Artists Series because they create a great balance between art and activism," said Paul Douglas Mischnewicz, Arts & Events Director, Reston Community Center. "Their music is delightfully spirited and when you listen carefully to their lyrics, they bring up immigration issues that affect all of us."
The Quetzal performance is part of the Reston Community Center's celebration of Hispanic American Heritage Month. The month pays tribute to Hispanic Americans who have influenced and enriched the nation and society.