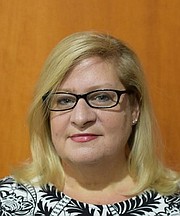 The Latino share of the population in the City of Alexandria is 16.6 percent and only expected to grow over the next few decades. The lifetime risk for cancer among individuals of Latino origin is striking: 1 in 2 for men and 1 in 3 for Latino women. With these rates, approximately 8.5 million Latinas will develop cancer in their lifetime, with breast cancer as the most common cancer and cause of cancer death among Latinas. As we enter Hispanic Heritage Month (Sept. 15-Oct. 15) and Breast Cancer Awareness Month (October), the diagnosis of breast cancer continues to generate fear and turmoil in the lives of many Latino women, who may not know where to turn.
Latino women tend to be diagnosed with later stage breast cancers than non-Hispanic White women. This may be due to lower mammography rates as well as delays in follow-up after an abnormal mammogram. Getting regular screenings (along with treatment if diagnosed) lowers the risk of dying from breast cancer. Screening tests can find breast cancer early, when the chances of survival are highest. A cancer diagnosis is a major life event that affects a person's physical, emotional, and social wellbeing. This diagnosis can be particularly catastrophic for a Latino person who lacks social support, speaks little or no English, has limited economic means, and has no health insurance. Among the clients Nueva Vida serves, a breast cancer diagnosis can be especially heartrending since hospitals, state, and county programs provide services through a structured enrollment process, which is often confusing and unapproachable to uninsured Latinos facing a complex array of barriers when accessing health care and ensuring quality standard of care symptom management.
Nueva Vida, a community-based organization located in Alexandria, has informed, supported and empowered Latinas whose lives are affected by cancer for the past 20 years. Our high-touch programs are proven to reduce the barriers and challenges Latinos face in navigating the health care system, and subsequently give a clearer understanding of the disease itself and its implications; so, clients may be fully educated in decision making and treatment options to improve their quality of life. We also complement these programs with culturally sensitive guidance (from the moment a woman is contacted) and culturally competent psychological support (from the moment she is diagnosed).
Most recently, Rosa a 37-year-old woman from El Salvador found a lump in her breast. Rosa had no doctor, no insurance, limited English and worked 12-hour days. Nueva Vida was there to provide Rosa with a diagnostic exam, interpretation, treatment options and transportation to the doctor, enabling a better outcome for survival. Rosa is provided group mental health support among other Latino women breast cancer survivors and given the tools to assist her in this difficult journey.
Given the fact that Nueva Vida continues to identify more Latinas with breast cancer at earlier ages, (under 40 years), understands the unique challenges in services and education and comprehends the needs of this population's understanding of the healthcare system, our work is critical to improve the overall quality of life for Latinas with breast cancer. As Rosa affirms, "Nueva Vida was a lighthouse in the middle of the darkness."
The need for support in Alexandria has never been greater. To learn more about Nueva Vida, please visit our website at www.nueva-vida.org o llame al 202-223-9100.