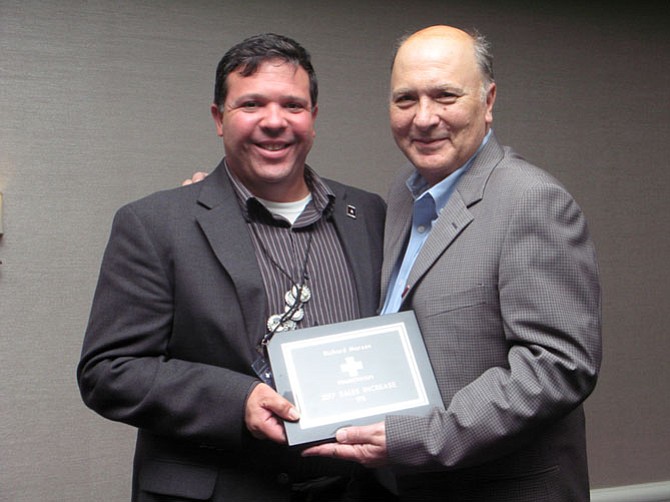 For Rich Marzan, growing his House Doctors franchise isn't just about great numbers, it's about building a base of satisfied, returning customers throughout the region. Now House Doctors, a national professional handyman company, has announced that Marzan and his team are the recipients of the 2017 Customer Service Award and a 2017 Business Growth Award. The awards were presented during the company's conference on Feb. 24.
"Rich Marzan is a great business owner and all-around great person. The Customer Service Award is an especially important recognition for him. He has the highest customer service rating of any House Doctors franchise in the system and he got there by providing excellent service, building relationships with customers, fixing problems when they arose and going out of his way to ask for customer service reviews when jobs were complete," House Doctors President Jim Hunter said.
House Doctors of McLean serves Dunn Loring, Falls Church, Great Falls, McLean, Arlington, Oakton, Tysons and Vienna as well as Bethesda and Potomac in Maryland.
"We are very appreciative of the recognition and I think it has motivated our team to be even better in 2018," Marzan said. "We are hiring a fourth technician this year and we're looking forward to having another van on the road so we can reach even more people."
House Doctors' background-checked and uniformed handymen technicians specialize in projects that take one hour to two days to complete, such as light remodeling and repairs of decks, doors, bathrooms and kitchens; repairing drywall; painting; exterior repairs; making home modifications and much more. House Doctors of McLean and their technicians are licensed, bonded and insured.
For more information about House Doctors of McLean, call 703-639-0391, email HD535@housedoctors.com or visit http://housedoctors.com/handyman-mclean/.