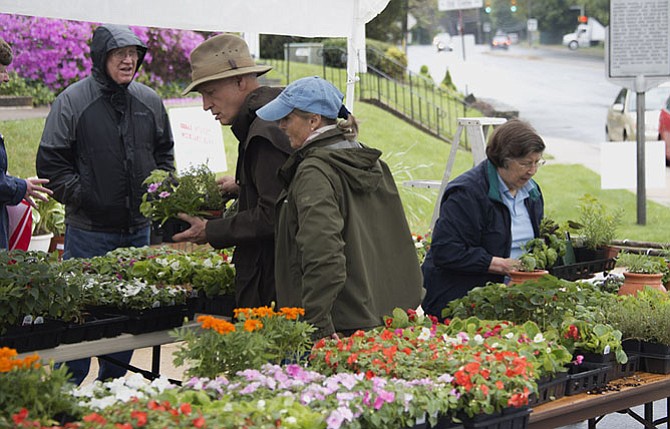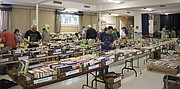 Stop in for a six pack of pink impatiens, a history of World War II and a sausage and cheese sandwich at the annual Walker Chapel United Methodist Church Aprilfest community event from 9 a.m. to 3 p.m. on Saturday, April 21.
A line forms early outside of Fellowship Hall, so that when the doors open at 9 a.m., a book lover can be the first to find the hidden treasure among the stacks of donated books. Joyce Wright, head of the book sale, says she expects to have about 7,000 books ranging from children's to history, travel, biography and fiction and even a section for signed originals and special value books. In addition, she adds they have a larger than ever selection of DVDs, CDs and audio books.
Books can be donated for the sale by dropping them off at Walker Chapel on Sunday, April 8 from 12:30-2:30 p.m. or on Tuesday April 10 from 5-7 p.m. with a maximum of three boxes. Wright says no books can be accepted after April 10 and they cannot accept encyclopedias, textbooks, magazines, VHS or cassette tapes or LP records.
Options for purchase of flowers and mulch include ordering ahead and purchasing online with selection of six packs, flats of 36 pots, single pots or hanging baskets. Advance orders must be received by April 15. Mulch can be picked up or delivered. Order at www.walkerchapel.org/aprilfest. An alternative is to print out the form, make selections and mail in with a check to the church office or browse through the flowers lined along the sidewalk that day and pick up whatever suits one's fancy on the spot.
Pick up pots of red, white, pink or rose geraniums for $3.50 or larger pots for $6.75. Flats of marigolds or petunias for $15.85 or 6-packs for $2.85. Hanging baskets of Boston Fern, New Guinea Impatiens or Purple Verbena for $15.75. A variety of herbs, peppers and other vegetables also will be available at Aprilfest but can't be ordered ahead since many are grown by members of Walker Chapel, and available plants will be dependent on the vagaries of weather. Dennisse Thomas is head of the plant sale.
Take a break between books and begonias and head for the kitchen where the men and women of the church prepare the breakfast and lunch this year. Take a respite from shopping by picking up a muffin or brownie from the bake sale organized by the youth.
Aprilfest started in 1995 as a neighborhood gathering place. Larry Danforth, a member of the congregation, says Heber Willis is in charge of the event and "just about everyone in the Chapel joins in because we like to be the neighborhood gathering place not just for the church but for love and friendship." Proceeds from the event are used to support local organizations such as A-SPAN, Arlington Thrive, AFAC, Arlington Free Clinic, and Christ House.