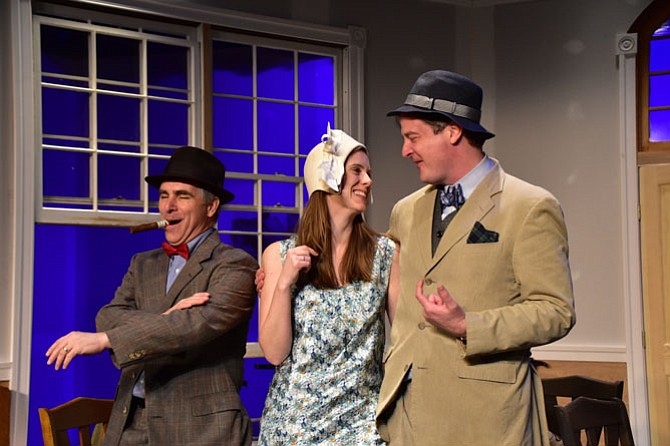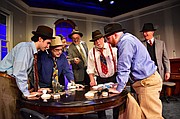 Where and When
Providence Players present "The Front Page" at the James Lee Community Center Theater, 2855 Annandale Road, Falls Church. Performances April 6 to April 21, 2018. Thursday, Friday and Saturday 7:30 p.m. and April 8 and 15, Sunday Matinees 2 p.m. Tickets $20 Adults and $17 Students/Seniors (Seating is Reserved). Call 703-425-6782 or visit http://www.provid...">www.providencepla...
Continuing their 20th anniversary season, the Providence Players are producing a classic comedy set in a 1920s Chicago newsroom. It is "The Front Page" by Ben Hecht and Charles MacArthur.
Directed by Providence Players veteran Michael Donahue, "The Front Page" is a fast-paced, happy nostalgic snapshot of the rough-and-tumble world of Chicago journalism in the 1920s. The productions centers on reporter Hildy Johnson who wants to break away from his journalism career and get married. But, the world intrudes when a jailbreak and an escaped convict change Johnson's plans.

Filled with crisp dialog and sharp humor about Big-City America, Providence Players director Michael Donahue "knew I had to direct this play. I was captivated and could not wait to bring to life the world, relationships and rhythm of Chicago in the Roaring 20s … and the people and the world of 1920 tabloid journalism.
"I want the audience to experience a snapshot in time … a valentine to a time when crime reporters existed equally alongside corrupt politicians and prison wardens, police, gangsters and the characters that populate the world of 1920s Chicago."
The central character, Hildy Johnson, is played by Chuck O'Toole, who happens to be a journalist and even went to journalism school in Chicago. "The Hecht and MacArthur script captures the energy of a press room so well; the way it flips from boredom to frenzy in a second when something unexpected breaks. As a performer, too, I liked the challenge of a 1920s period piece. People experienced the world so differently back then."
O'Toole added: "'The Front Page' is a classic of the American theatre and a heck of a lot of fun. It's cynical and sweet-tempered at the same time. It also reminds us that nothing's new about today's media controversies - bias and fake news were always with us. But it's not a history lesson, it's a full-speed-ahead farce, and you'll be laughing every bit of the way.
Long-time Providence Players performer David Whitehead plays the character Walter Burns. "Burns is a hard driving, single-focused, no holds barred, newspaper editor who will do almost anything to get the best story. Being able to explore and portray this hard-nosed, make-it-happen newspaper man has been so fun and a real privilege.
"'The Front Page' plot is hilarious, the dialog fast-paced and funny, and the characters so interesting and hilarious," added Whitehead. It will be an "incredible evening" of theater.