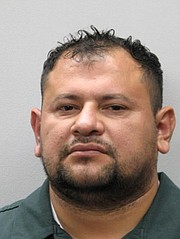 Harold Garnett was taller and heavier than Vidal Flores Cuchillas, but the latter man allegedly had a pocket knife, which erased the difference between them. And when the two got into an altercation outside a Centreville sports bar, Garnett, 27, was stabbed and later died.
Fairfax County police arrested Flores Cuchillas, 38, of Centreville and charged him with second-degree murder. And Monday, April 2, in General District Court, the case against him was sent to the grand jury.
The tragedy occurred Nov. 4, 2017, shortly after 2 a.m., in the parking lot of Velocity 5 in the Trinity Centre off Route 29. The restaurant had been closed for about 40 minutes when staff closing up heard a fight at the far end of the parking lot and contacted police.
Responding officers found Garnett, also of Centreville, with stab wounds to his upper body. He was rushed to the hospital and later succumbed to his injuries. Meanwhile, K-9 units searching for the alleged perpetrator found Flores Cuchillas hiding in some nearby bushes.
Garnett was a regular at Velocity 5, and Flores Cuchillas — who did not know him — was there with two friends, Edwin and Jose. Monday afternoon, during Flores Cuchillas's preliminary hearing, homicide Det. John Vickery testified that a pocket knife with a 3-inch blade was found in the parking lot.
Vickery said that, when he arrived on the scene after the incident, Flores Cuchillas had already been arrested for being drunk in public and spoke with him. "He told me he'd come from Velocity 5 and was running because some people were chasing him and said they were going to kill him," said Vickery. "He was dirty and looked like he'd been rolling around on the ground."
Vickery said Flores Cuchillas told him a black male [Garnett, whose name he didn't know at the time] became angry first and that Edwin was on the ground first. "He described the decedent's behavior as crazy and said he was with a group of individuals," said the detective. Vickery then read a section of his report in which he'd written that Flores Cuchillas "opened the knife and struck [Garnett]."
"He said it was in defense and that it was an accident, correct?" asked public defender Dawn Butorac. Vickery replied affirmatively and said the knife's trajectory was downward and there was just one strike.
"Did [Flores Cuchillas] say he was trying to hurt or kill [Garnett]?" asked Butorac. Vickery said no. "He also expressed remorse for the victim and wrote an apology letter, didn't he?" she asked.
"He had me dictate one," answered Vickery.
Butorac then had the detective confirm that, according to the autopsy report, Garnett was 273 pounds and 5 feet, 9-1/2 inches. He also agreed with her that Flores Cuchillas is 140 pounds and 5 feet, 4 inches.
Assistant Commonwealth's Attorney Ryan Bredemeier then asked Vickery, "Did you clarify whether [Flores Cuchillas] said people were chasing him and threatening to kill him, before or after the incident?"
"He didn't say, but I assumed, after," replied Vickery.
Then, addressing Judge William Minor directly, Butorac said, "There was no intent to kill; so, at most, this is manslaughter. A man twice his size was attacking his friend [Edwin] and trying to attack the defendant, so this was self-defense. Mr. Flores Cuchillas tried to stop this fight, but [Garnett] escalated it by swinging at him a couple times. There were drugs in the victim's system, and [Flores Cuchillas] acted with the least force possible to protect himself."
However, said Bredemeier, "The defendant pulled out a deadly weapon and struck a person in the chest. The use of a deadly weapon indicates malice, and I ask you to certify this case to the grand jury."
The judge then found there was probable cause to believe Flores Cuchillas committed second-degree murder and sent his case to the next grand jury for possible indictment. The defendant then returned to jail, where he is being held without bond.