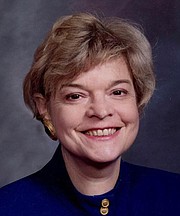 Susan Joyce Cluff (Williams) died on March 14, 2018 after a long battle with scleroderma and other health issues. Her health had been declining for many years, but her passing was unexpected. The family is comforted that she is no longer in pain, though she is dearly missed.
Susan, or Susie to many, was born in Chicago, Ill. on Jan. 21, 1945 to Robert and Dorothy Williams. Most of her childhood was spent in Alexandria, Va. She graduated from Hammond High School in 1964 and went on to Mary Washington College. While at college she met and was swept off her feet by her future husband Mike. They would have celebrated their 53rd wedding anniversary on March 30. As a military wife, Susie lived all over the U.S. and abroad, gathering cherished friends everywhere.
Susie was an avid antique collector and was certified in Appraisal Studies & Decorative Arts from George Washington University. She owned Blue Butterfly Antiques which kept her busy in her search for treasures. Many of these finds were brought home for Mike to refinish.
Susie was also very active with St. Andrew's Episcopal Church in Burke, Va. and Trinity Episcopal Church in Newport, R.I. After moving to Vinson Hall, Mike and Susie joined St. Dunstan Episcopal Church in McLean, Va. She held a Certification in Education for Ministry (EFM) from University of the South School of Theology. Mike and Susie enjoyed traveling and have been all over the world on many adventures.
Susie will be remembered by her husband, Col. Michael L. Cluff (ret), their children, Michael Sean Cluff (Ronda) and Kristin Michelle Shafer, and by her sister, Dr. Sharon Williams Ignarro (Lou). She was blessed with three grandchildren, Andrew Ryan Shafer, Eric Matthew Shafer, and Grace Matthews Cluff. Susie's warm smile and gracious manner will be forever held in their hearts.

A memorial service will be held on Sunday, April 8, at 3 p.m., at St. Dunstan Episcopal Church, 1830 Kirby Rd, McLean, Va.
In lieu of flowers, memorial donations in remembrance of Susie may be made to the Navy Marine Coast Guard Residence Foundation, 6251 Old Dominion Drive, McLean, VA, 22101 Attn: Sara Simms.