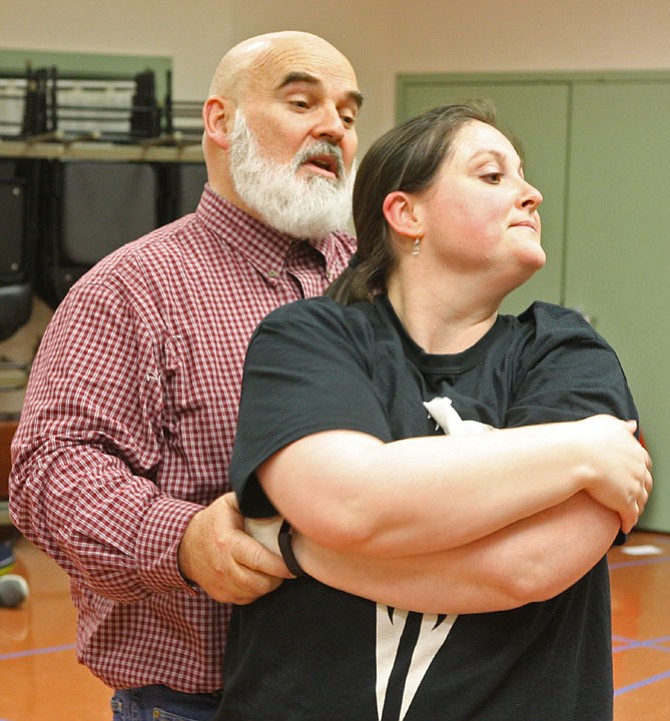 The Arlington Players (TAP) is presenting the musical thriller "Sweeney Todd" — The Demon Barber of Fleet Street, from April 13-28. The play is a tale of obsession, love, murder, and revenge that is darkly humorous. With music and lyrics by Stephen Sondheim and book by Hugh Wheeler, the story is based on the play by Christopher Bond. It opened on Broadway in 1979 and won the Tony Award for Best Musical.
TAP Director Clare Shaffer said part of her goal was to create an abstracted, skeletal London teeming with city life. "While 'Sweeny Todd' is predominantly a story of revenge, obsession, and murder, it is also deeply rooted in socioeconomic inequality and urban anonymity that emerged during the British Industrial Revolution. During this time manufacturing, business, and the number of wage laborers skyrocketed — as did socioeconomic tensions and urban poverty and overpopulation," she said.
"The show is rife with themes of classism and we aim to highlight the gap between the bourgeois and the blue-collar in our design and staging. From Sweeney's initial imprisonment, to the crowd of uneducated passersby being swindled by Pirelli, to the commitment of Johanna, we see again and again 'how civilized men behave' and find ourselves almost rooting for Sweeney's literal and cultural cannibalism."
Brian Lyons-Burke plays the role of Judge Turpin, the great villain of the story. "It is his actions that denied freedom to Sweeney and tore his family apart. He is a man that feels justified in taking what he wants when he wants, partly by virtue of his exalted position as a judge and pillar of the community, partly because at heart, he is an evil, grasping man. He is the focus for Sweeney's desire for vengeance," he said.
He said the character himself is a bit of a challenge. "This is a man who is extremely amoral and venal, driven by his desires with no empathy for others. While I have played evil characters in the past, Turpin is in a league of his own. It is a real challenge to reach for such a dark and creepy character, especially in a musical," he said.
He added: "Sweeney Todd is almost a Greek tragedy set to music. This is a dark tale of revenge and madness — even the comedy is dark! This is often called a musical thriller — and I hope that the audience will be thrilled — and touched deeply by the tragic elements of the show."
Judy Lewis plays the role of the beggar woman, a sort of a victim of a #MeToo situation, in a tragic way. "However, and maybe fortunately for her sake, she doesn't remember much of her past and has gone quite mad — not entirely bonkers crazy, but off enough to wander the streets switching moods on a dime. She does, however, have animal instincts about bad stuff and bad people, and that comes into play further into the show," she said.
Her biggest challenge was the vocals as her character sings in about three different ranges. "We've decided not to make her too pretty with the vocals, so it's a matter of finding that sweet spot for her sound," she said.
Alden Michels plays the role of Beadle Bamford, the head law enforcement officer outside of the court — a mix between a sheriff and a bailiff. "The Beadle has a very demanding singing range and that is just a challenge of vocal athleticism," he said. "As far as acting, he has a lot of fun stuff to play, but the key for him is to bring out both how insufferably pompous, hypocritical, and savage he is without turning him into an absolute cartoon — he has to feel like a real guy for the audience to really hate him as they should."
As far as audience takeaways, he said: "I hope it scares and delights them and gets them to think about some larger cultural things: capitalism, revenge, stratified society ... it's all in the script and score — so I hope we're able to conjure that."
Bob McGrath plays the role of Sweeney Todd, a man who has returned to London after escaping the penal colony where he was falsely imprisoned for 15 years. "Upon arrival, he finds out that his despairing wife had poisoned herself and his daughter is now the ward of the judge who had him transported. This knowledge, and his feelings of guilt for not having prevented it, propel him on a quest for retribution that reap the most dire consequences for himself, those who wronged him as well as innocent people," he said.
He said it's a challenge to be terrifying and sympathetic at the same time and not have one cancel out the other. "He does all these horrible things but he is the play's protagonist, so the audience has to relate to (on some level) this man who only trusts the objects that help him murder. They need to feel his pain. Otherwise, they won't stay with you," he said.
AnnaBelle Lowe plays the role of Johanna, Sweeney's daughter who was separated from him as an infant and then adopted by Judge Turpin. "She is a young woman who is beginning to challenge the strict ideals of her upbringing when she becomes enamored of Anthony. Johanna is faced with her father figure, the judge, intending to marry her himself, so she and Anthony attempt to take control of their fate together," she said.
She added: "If Sweeney Todd is a parable, then I think it's about being blinded by obsession. As a Sondheim-obsessive, it pains me to say it, but his characters often strive for a single outcome, only to be punished for it. If it isn't, then maybe Sweeney Todd is about the morbid fun of watching characters struggle with what you know and they don't."
As music director, Paige Rammelkamp said her main challenge was to respect and interpret the work of Sondheim. "In a play where the music is the main vessel of emotion, character, and symbolism, it's important to make sure all of that shines through while still honoring the director's vision as well as everything new our actors bring to the table," she said.
She added: "The most fascinating thing about this lush score is how each character is directly controlling the music, rather than vice versa — every time Sweeney sings, the music moves to match his objectives, no matter how 'insane.'"
As the producer, Janet Bordeaux said her biggest challenge is finding enough volunteers to assist the designers. "TAP is always looking for people who have carpentry experience, can use a paint roller and brush, and can assist the costumer with sewing. Everything you experience at a TAP production is done by a volunteer — from the directors and designers to the actors to everyone behind the scenes. It is the passion that these volunteers have for theater that will make 'Sweeney Todd' a remarkable experience for the audience," she said.
The Arlington Players (TAP) is presenting "Sweeney Todd" — The Demon Barber of Fleet Street, from April 13-28. Show times are Friday and Saturday at 8 p.m.; Sunday matinees at 2:30 p.m. Tickets are $25/adult; $22/senior/military; and $15/child/student. The venue is the Thomas Jefferson Community Theatre, 125 S. Old Glebe Rd., Arlington. Visit www.thearlingtonplayers.org.