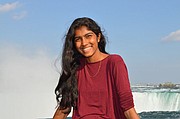 Do you remember the first time you held a camera in your hands? Can you picture that power? That thrill? That heightened clarity? That feeling of being able to momentarily change the way the world is viewed? It is easy to imagine these feelings as someone living in Northern Virginia, a place filled with people who actively support and value the arts.
I am lucky to go to a school — Langley High School — that prides itself on its Fine Arts program. I am lucky to live just miles away from some of the most beautiful art galleries in the country. I am lucky to simply be encouraged by my parents, friends, teachers and others, to pursue my passion of photography.
We are all so lucky as members of the Northern Virginia community, that we often forget of many people who are denied these creative outlets. Many people are not given the chance to pursue an art education. Nor do they see daily the power of artwork. Some rarely have access to cameras.
That is why I joined 100Cameras Bangladesh. 100Cameras Bangladesh is a snapshot project of 100Cameras - a non-profit organization whose goal is to allow children to capture and share their stories through photography. Led by Sumaiya Haque, a junior at Langley High School, and her photography teacher, Amanda Archibald, 100Cameras Bangladesh similarly aims to empower the children of Dhaka, Bangladesh, a community primarily consisting of sweatshops workers, to use photography as a platform to express their experiences in underdocumented migrant communities.
This summer, our team of high school students, which include student filmmaker Andrew Kim (a Thomas Jefferson High School Junior), student photographers Mehran Sajjad (a Thomas Jefferson High School junior) and myself, will travel to Dhaka, Bangladesh. Once in Dhaka, we will be collaborating with Teach For Bangladesh, a non-profit organization whose objective is to expand educational opportunity in less developed communities, to conduct a two week photography course for elementary schoolers.
Our course curriculum explores both storytelling and technical photography skills that will enable the children to share their unique perspective that comes from the culture and history of their country.
Upon our return to the United States, we intend to host an art show in the Northern Virginia area, where local advocates and government leaders will be invited to hear the stories of these children. We will hold auctions and sell the photographs. One hundred percent of the proceeds will fund the most pressing communal needs, such as flood protection, thus enabling the children to see the long-term impact of their own contribution.
In addition to monetary contributions, the cameras are donated so that they can continue projects with the children after our departure. As students who understand firsthand the benefits of growing up in an area in which art is celebrated and encouraged, we hope to provide these children with a creative outlet that will allow them to receive a more diverse education, while positively impacting their community.
Our project is unique in that it aims to uncover the injustices occurring in migrant communities through our camera lenses as well as from the perspective of the children facing social injustice — in essence, producing a thought-provoking fusion of perspectives. Additionally, this project will hopefully shed some light on the injustices occurring throughout migrant communities in Bangladesh which unfortunately lack sufficient media representation.
Consequently, we also hope to empower these children to exercise their powerful capabilities and develop their communities, thus bringing awareness to their lives. By seeing their art and stories shared with others inside and outside of their communities, these children will feel pride in their work and accomplishments.
Through local networking, we have begun fundraising in hopes to cover the costs for cameras and lodging. But we need your support. As a community that appreciates the beauty and enrichment art offers to everyday life we hope you all see the necessity for a project like this. With your help we can help inspire a new generation of artists and influencers.
Everybody has a story to tell. We believe in the wonderment of kids, their curiosity and innocence, their view of the world and how they can make a difference in their communities. By supporting us you are not just funding a project, you are providing the catalyst to change these children's lives. You are giving these children ability to feel that joy, thrill, and power that comes with holding a camera; you are giving them the ability to change the world.
Want to find out more? Go to www.100camerasbangladesh.weebly.com There you will find our GoFundMe page. Your donation makes a difference: http://gf.me/u/gqiwgb