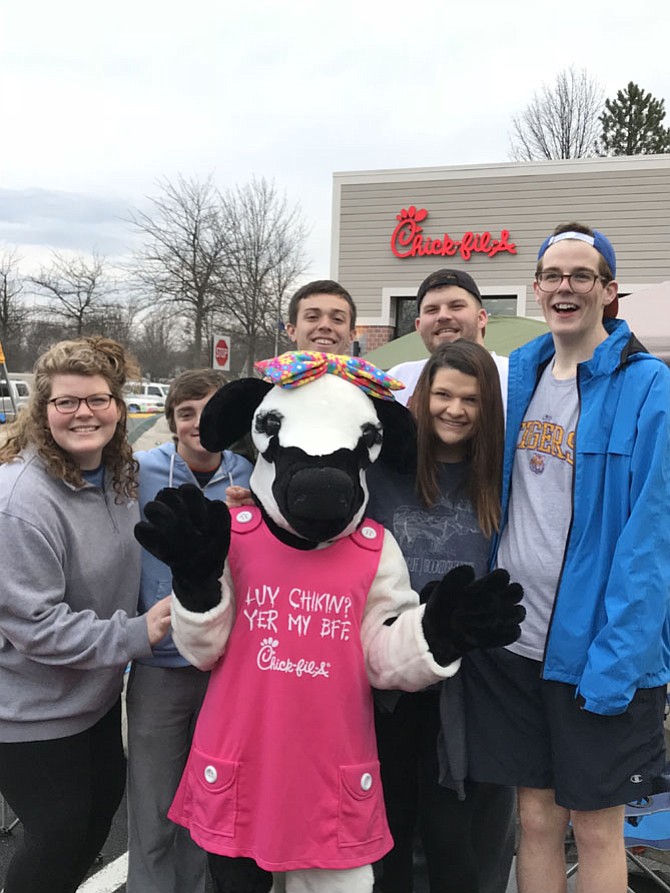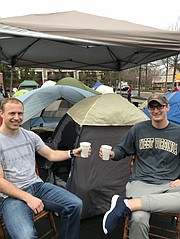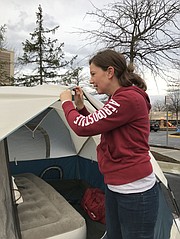 Who wouldn't want to camp out with 100 people if there was free food and drink, music, fun and entertainment? And what if, after 24 hours, you received a gift card with a one-year supply of free meals that you absolutely love?
Chick-fil-A opened their newest location at 1494 Northpoint Village Center in Reston on Thursday, April 5, 2018, after their signature family-friendly daylong and overnight 'First 100 Celebration.' The community event popped up in the restaurant parking lot at 6 a.m. Wednesday, April 4, a full 24 hours before the chain's Grand Opening event.
Seasoned campers lined up shortly after dawn, vying to be counted as one the first 100 adults through the door to win a year of free Chick-fil-A meals. The 'Chick-fil-A First 100' is a tradition going back more than 14 years. During that period, Chick-fil-A has given away more than $34 million in free food through 2017, and the event continues to be the chain's signature Grand Opening Event.
"Rain, snow and extreme temperatures do not deter Chick-fil-A fans who arrive with tents, chairs, TVs and computers to stay entertained," read the company description. "Each fan hopes to win a digital offer card loaded with a one-year supply of free Chick-fil-A meals … that will be awarded to the first 100 eligible adults– ages 18 and older with identification – around 5:45 a.m. on April 5."
And arrive they did. Stephen Melson of Reston set up a tent with his co-worker Tim Miller of Fairfax who said he has done this six times and loved the fun. Asked if they were taking time off from work to camp out all day and night in a parking lot and in the middle of the week, Melson said, "We have flexible hours and can telecommute. We have to work 80 hours in two weeks." Looking at the hard asphalt, Melson added: "We're fortunate we brought foam mattresses."
Jill Montague, formerly of Reston, was there with her mom Joan Dubbs of Falls Church. They were busy adding the supports to their tent. Montague said, "We've done seven or eight of these events as a family. Chick-fil-A has always been so good to everyone. They have great customer service, and we support them." Dubbs added: "The grandkids love the playhouse. It's a relaxing place to come."
One of the largest tent groups had six members. Their campsite resembled a village and was exceedingly well set up. Asked what they would do for the next 24 hours and what they thought the best part of that time would be, the group quickly nominated Stacey Anderson of Reston, gently nudging her forward. She quickly had the answer, "The best part of this event is spending 24 hours with my favorite people and eating free Chick-fil-A all day. Thank you Chick-fil-A for hosting this," Anderson said.
Franchise Operator Larry Everett is a retired firefighter with 30 years of service. He spent most of his career serving the local community in Fairfax County. According to Chick-fil-A, "Everett retired in 2014 as a battalion chief and found his next chapter with Chick-fil-A thanks to his son, Philip, who owns a Chick-fil-A in Rockford, Ill., and local Operator Ryan Patrylo in Brandywine. His love for Chick-fil-A grew as he volunteered at Patrylo's restaurant and later joined as a team member. In 2015, Everett was selected to operate the chain's location inside White Marsh Mall in Baltimore.