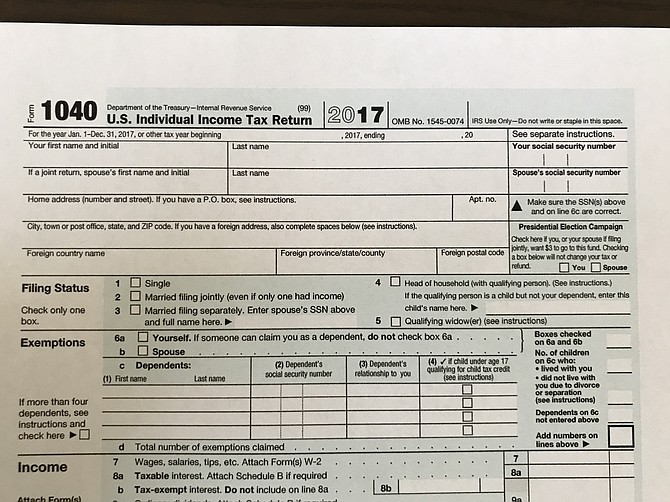 Fairfax County Government announced free tax preparation assistance is available to individuals and families who earned $54,000 or less in 2017. IRS trained and certified volunteers are available at 15 sites throughout Northern Virginia including a site in Herndon and a site in Reston.
Known as the Volunteer Income Tax Assistance (VITA) program, Fairfax County government reports that last tax season families throughout Northern Virginia received over $9.5 million in federal refunds through this service.
In Herndon, the free tax preparation assistance site is located at the Neighborhood Resource Center, 1086 Elden Street, 20170. The center offers the service on Wednesdays, 6 - 8 p.m and Saturdays, 9:30 - 11:30 a.m. now through April 14, 2018
In Reston, free tax preparation assistance is available at FFX SkillSource Center, Reston, 11484 Washington Plaza West. Volunteers will be at the center and offering assistance on Tuesdays 3:30 - 8 p.m and on Saturdays 9 a.m.-12:30 p.m. now through April 17, 2018.
Individuals should bring the following items:
Photo ID for you and your spouse if filing jointly;

Social Security cards or Taxpayer Identification Number (ITIN) for everyone in the family. All income statements: W-2, W-P, W-2G & 1099, etc.;

All income statements for each working dependent: W-2, etc.;

Voided check for direct deposit;

Expense documents: dependent care, education-related expenses, home mortgage interest payments; and

Proof of health insurance coverage, i.e., form 1095A, insurance card, Medicare or Medicaid card.
If you prefer to file your own taxes, trained and certified volunteers will be on hand at both the Herndon and the Reston sites to assist as needed.