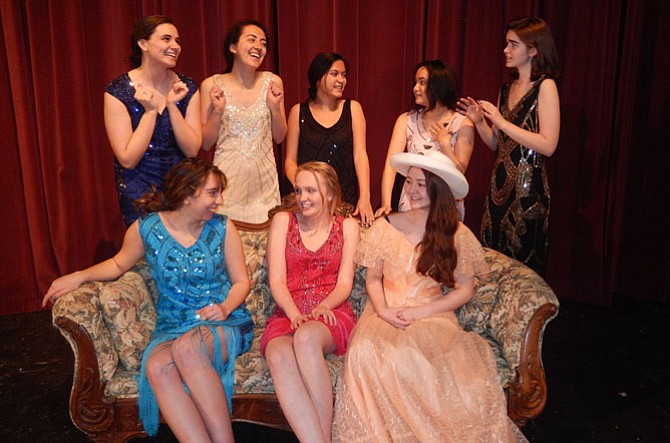 Featuring a cast of 40 and a crew of 25, "Thoroughly Modern Millie" will soon burst upon the Chantilly High stage. And Director Andy Shaw says this lively, musical comedy is sure to entertain.
"The characters are big and goofy, and the production showcases all the different types of musical-theater songs," he said. "It's a fun musical and a really sweet love story about how two people looking for completely different things in life end up finding each other."
The story takes place in New York City in 1922, and Vogue magazine has said that modern girls marry their bosses, so Millie picks one who's handsome and rich. But when she meets Jimmy, who likes to party and have fun, she gets distracted and falls in love with him.
The curtain rises Thursday, Friday, Saturday, April 19-21, and Wednesday, Thursday, Friday, April 25-27, at 7 p.m. Tickets are $12 at the door or via www.chantillyhsdrama.com.
"We really have strong, hardworking actors and singers, and a great tech team, too," said Shaw. "And our choreographer, senior Carolan Corcoran, did all the numbers. She's been amazing to work with and commanded the students' respect, and they love her. This show has numbers ranging from tap to ballet, Charleston and ballroom, and she did a wonderful job teaching to all the different levels of dancers we have."
The boys will be dressed in classic, period suits, and the girls will have bobbed hairstyles and wear flapper dresses with fringe, long beads, fur shawls and hats. The scenes will take place at a two-story hotel complete with an elevator, plus Millie's workplace, and attendees will also see the New York skyline.
Junior Lauren Spiers portrays Millie. (Her understudy, Haley Herman, will perform in the April 25 show). "Millie's 22 and determined to get what she wants," said Spiers. "She's not afraid to put herself out there and always follows her goals, no matter what it takes. She wants to get a job and marry someone rich — her boss. She's just moved from Kansas and wants to succeed in New York."
Spiers loves her role because, she, too, has strong self-determination. "Millie's also a very enthusiastic character," she said. "And it's fun to work with the other castmates — everyone's so supportive."
Her favorite song is the opening number, "Thoroughly Modern Millie," in which she and the entire ensemble sing and dance together. "Millie's admiring her new city and all the modern women she aspires to be like," said Spiers. "It's an upbeat number, so we have fun doing it; and it's the introduction to the show, so everyone's smiling and enthusiastic."
She said people will be able to relate to many of the play's situations, such as the scene where Millie is trying to get her boss to like her, but she's bad at flirting. "They'll also like the contrasting characters," said Spiers. "For example, Millie is poor and overthinks things, but her best friend Dorothy is rich, over-the-top and vibrant."
Playing Dorothy is junior Kylee Downie. "She's the archetypal damsel in distress, except she isn't afraid to take control of the situation," said Downie. "She's very much the master of her own fate. She's adventurous and all about trying new things and meeting new people. She's kind of an old-fashioned girl, but tries to bend the rules a little. She's used to an aristocratic lifestyle in California, but comes to New York to discover what it's like to be an average woman in the 1920s."
Downie likes playing Dorothy because "She's bubbly, quirky and strong, unlike most women of that time. And she's not afraid to speak her mind. Dorothy and Millie sing the song, 'How the Other Half Lives,' when they come together as friends. They realize how much they can help each other and how much potential their friendship has."
As for the show, Downie says it has something for everyone. "It's packed with comedy and relatable content, and it's very engaging, both musically and visually," she said. "And we have a variety of characters."
Senior Christine Moon portrays Mrs. Meers, an ex-actress who's turned to crime. "She's driven by money and is a tough businesswoman who runs a hotel for poor actresses," said Moon. "She pretends to care about these girls, but really has an evil purpose."
Moon says she's fun to play because "She's very out there and mischievous, and I get to add my own little touches to her character. I also get to make large, over-the-top movements and have a funny voice. And I like singing, 'They Don't Know,' about how the actresses don't know she's an evil, scheming person. And because of that, she thinks she's the best actress in the world. But she shows her true colors and intentions to the audience."
She said audiences will enjoy seeing all the glamorous, flashy costumes, and "The set will be amazing. They'll also like the strong dynamic of the characters, ranging from evil to kindhearted. The choreography is great, and our cast members have very good chemistry with each other. And the story of a girl coming to New York to follow her dreams is very inspiring."
Playing Jimmy Smith is sophomore Matthew Mendoza. "He's 23 and has lived in New York for several years," said Mendoza. "He's charismatic and tries to make his life as fun and memorable as possible. He's also a playboy and flirts with as many girls as he can — and he's well-known for this. One day, he meets Millie and then his character's dynamic and reputation start to change as he falls in love with her."
Thrilled to have his first leading role, Mendoza said, "I like the challenge. And unlike my past characters, Jimmy has confidence. There are many, different ways to have fun with this character, connect with the audience and let them know he's not just a playboy. There's also this sincere part of him that he rarely shows."
Mendoza's favorite song is "What Do I Need with Love?" which he sings. "It's a sneak peek at his true personality and what Jimmy's character is truly about. It also has a variety of tempos; it starts slow and then turns into something you could jam with."
Overall, he said, this show is "upbeat and a fun night to spend with your family. At the end, they'll be singing the songs in their heads because of how catchy they are. And all the songs have a purpose — to tell the characters' stories."