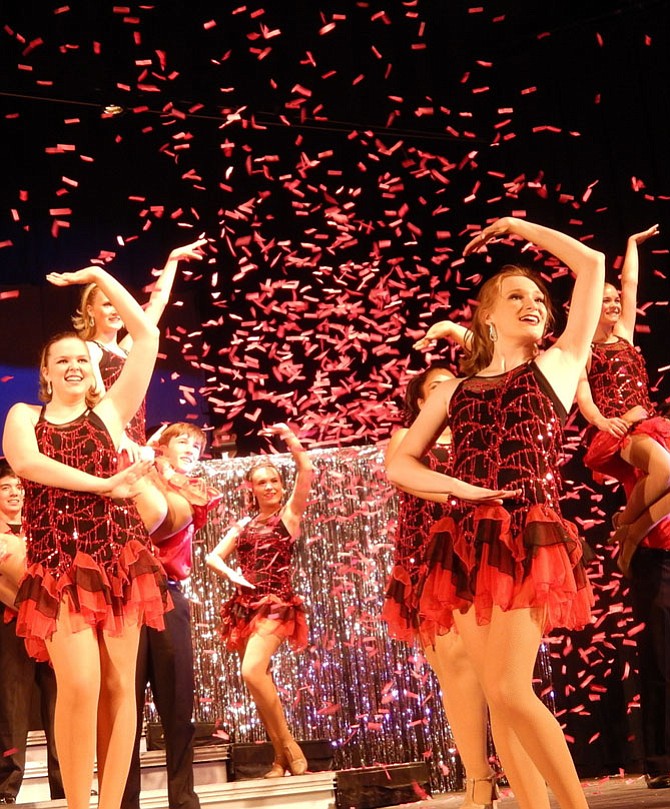 The Chantilly High community is passionate about its traditions. When the message shed outside the school was suddenly torn down, students, alumni and parents mourned the loss. And now that Chantilly's Show Choir course – and, therefore, its beloved Jazz & Pizzazz show – is in jeopardy, people are feeling the same way.
For 31 years, this four-night musical event has been a valued and integral part of the school and community. But on Wednesday, April 4, Director of Student Services Robyn Lady, who's also Chantilly's Performing Arts administrator, sent a letter to those connected to ShowStoppers, the show choir that performs in Jazz & Pizzazz. She wrote, "Given the declining interest in Show Choir…we will not be offering this class next year."
She said Director Evan Ayars will still be teaching full-time, but that Show Choir students would have to choose other choral classes, instead. Word spread like wildfire via social media, and one of the current students started an online petition to save Show Choir.
The petition said it's "completely unfair to deprive current and future members of the love and support Show Choir offered many generations before, and even more unfair to the department and the community for discontinuing this tradition that has brought many people and families joy over the years." By Monday morning, April 9, more than 1,500 people had signed it.
Tomoko Liu said her daughter Sophi is a ShowStoppers member and transferred from South Lakes High to Chantilly to be in Show Choir here. "It was the class that helped my daughter survive stressful, high-school life," wrote Liu. She added that this sudden decision would have a "huge, negative affect," not only on the Chantilly music families, but also on the community.
Signer Harrison W. stressed that "Show Choir was huge in Chantilly long before [TV show] 'Glee' came on the air. Sad to see an organization that was once named America's Top Show Choir be swept under the rug to completely cease to exist."
Margaret Anne Helmick, a 1998 Chantilly grad and former member of the Touch of Class Show Choir (ShowStoppers' previous name), said she's "one of many who benefited from the Chantilly show choirs. After high school, I attended the Oberlin Music Conservatory and Manhattan School of Music on vocal scholarships." She's also won many national vocal competitions and held leading roles in national and international musical productions and credits Chantilly's Show Choir program for preparing her so well for these performances.
Caught in the crosshairs of all this controversy is Scott Poole, who's been Chantilly's principal since October and was unaware of Jazz & Pizzazz and its storied tradition at the school and in the community. He said Lady presented him with data showing that enrollment in the Show Choir course has been low, the past three years.
"And if you go back seven or eight years, it's really come down," said Poole. "There aren't many show choirs in the county; it seems like student tastes have changed. We have 22 kids signed up for next year, and what kind of a show can you have with 22 kids? Nobody wants to cut the program, but if [student interest] is just not there, it's not there."
So he approved her letter and, after it went out, the petition arose and parents and School Board members began contacting him. Friday night, he called former Chantilly Principal Teresa Johnson for some context and background on the Show Choir.
Poole said Johnson told him Show Choir "had low numbers last year, but she decided the school needed to talk about it over a year. But then she left [Chantilly] and nothing happened." He also hadn't realized that no one had touched base with the students and parents about cutting Show Choir before the letter went out. But, he added, "It's a good problem to have, in that people care."
His conversation with Johnson opened his eyes. "I didn't fully grasp how long a history the Show Choir has had here," said Poole. "And I didn't appreciate the emotional connection parents, students and the community had with this program."
Saturday morning, he wrote to Lady and to the entire Performing Arts Department. He said the school will put its decision on hold for now and take a closer look at the whole issue before deciding, in a month or so, what to do. He also sent a letter to concerned students and parents, explaining about the declining Show Choir enrollment, but also saying nothing is final, yet, and apologizing for how things had evolved.
"In retrospect, we handled this matter badly," wrote Poole. "We abruptly sent a letter to the community without discussing the situation with students and parents, eliciting their feedback regarding solutions, or giving everyone involved time to process it. I didn't ask the right questions or do my homework before approving the elimination of the program, and I take responsibility for my actions."
"In short, we need to have the discussions with students and parents that we should have had, before making any decision about the future of the program," he continued. "If we do anything less, we will diminish the relationship of trust and respect that makes the connection between our Performing Arts Department and our community so strong."