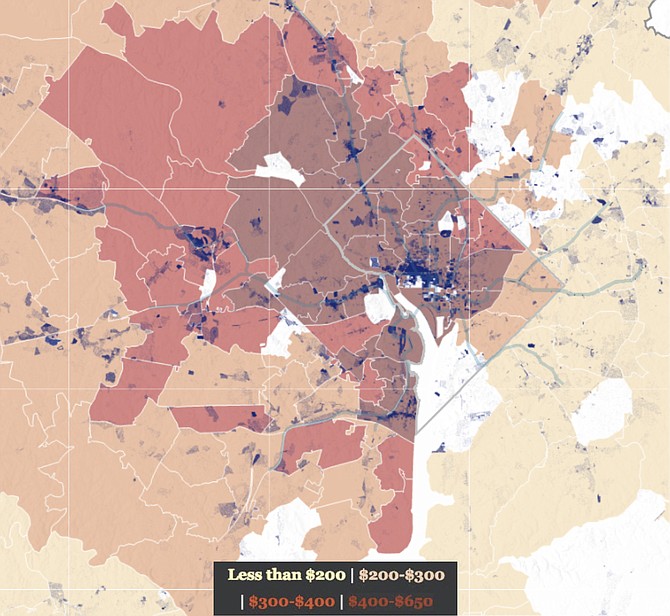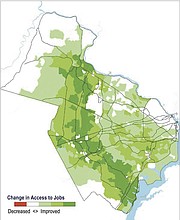 Keep an eye on major investment decisions in the coming weeks and months regarding the city's and region's complex transit ecosystem.
"Multimodal" transit comprises a major component of the city's long-term vision. That is, multiple modes of transportation — including bus, rail, pedestrian, bicycle — combined into "a seamless, comprehensive and coordinated transportation system," according to the city's Transportation Master Plan (TMP).
For new city facilities, Alexandria's proposed FY19-28 Capital Improvement Program (CIP) includes nearly a quarter-billion dollars for "expanded transportation and transit infrastructure projects," comprising fully half the total in that category. City Council will begin its add/delete process April 24 and adopt the budget on May 3.
Alexandria's transit concept "integrates key elements with transit plans in surrounding jurisdictions," according to the TMP. The city's investments consider TransAction, a long-range regional plan managed by the Northern Virginia Transportation Authority (NVTA). NVTA, comprising elected officials, "works toward regional consensus" on doling out funds to multimodal transportation infrastructure projects. NVTA's revenues come from portions of certain regional taxes; the agency can also issue bonds. On April 13, NVTA will release for public comment its list of 62 candidate projects through FY23. Six of those, totaling $88 million in requested funds, come from Alexandria, the largest being West End bus rapid transit (BRT). The projects, requesting a total of $2.6 billion, will compete for limited funds, with a final decision anticipated June 14. The public comment period will continue through May, including a public hearing on May 10.
NVTA estimates $1.5 billion in revenues through FY23. But the total amount at its disposal is still up in the air, pending state-level action next Wednesday, April 18, regarding funding for the Washington Metropolitan Area Transit Authority (WMATA). WMATA operates regional Metrorail and Metrobus lines, which move hundreds of thousands of riders each day.
Last month, in historic legislation, the General Assembly dedicated a $154 million revenue stream to WMATA, mirroring similar commitments from Maryland and Washington, D.C. Next Wednesday, If the General Assembly rejects Gov. Ralph Northam's amendments to the bill, existing NVTA dollars would be diverted to meet the $154 million threshold, according to state Sen. Adam Ebbin (D-30). The General Assembly's accepting the amendments, which would bring new state money to bear, would leave more NVTA funds for other regional projects.
In any case, the legislation would amend the Code of Virginia, making funding guaranteed, unless repealed, rather than a budget-by-budget decision.
Getting dedicated funding has been a "main focus" for NVTA, according to Mayor Allison Silberberg, Alexandria's NVTA member. It's a long-awaited "miracle," she said.
Councilman Paul Smedberg, chair of the Northern Virginia Transportation Commission (NVTC) and an alternate on the WMATA board, also supports the move. NVTC holds in trust and manages various monies that go to support WMATA, and also appoints Virginia's share of WMATA board members. Its discretionary capacity will increase in the next couple years, as it begins distributing $15 million per year in competitive funds garnered from I-395 tolls. Though elsewhere Smedberg has opposed dedicated funding in principle, he says he supports it here because of Metro's large scope and the potential to alleviate the jurisdictions' funding burden.
Alexandria's proposed CIP assumes $10 million per year in dedicated funding, starting in FY20, "to offset part of the city's capital subsidy to WMATA." Staff will present to council next week an analysis of the new dedicated funding's effect on the city's budget, according to city spokesman Craig Fifer.
All of this is part and parcel of the complexity of regional transit.
NVTA's TransAction plan measures its success using 15 variables. Many of these serve NVTA's primary objectives to "reduce congestion and move the greatest number of people in the most cost-effective manner." Others serve, for example, to "increase access to jobs, employees, markets, and destinations" and "reduce transportation related emissions."
"High home values in the urban core push many residents to seek cheaper housing in the periphery. … Meanwhile, work and opportunity do not follow affordable homes," according to a data-mapping presentation called "End of the Line," created by the Story Maps team at Esri, a mapping software company. "300,000 jobs are concentrated into downtown D.C. alone. With the exception of main thoroughfares and a few pockets of new development, job counts drop off exponentially at increasing distances from the urban core. Public transit is essential to bridge the divide between these jobs and affordable housing."
These challenges are chronic. The population in Northern Virginia is expected to grow by 24 percent by 2040.
"Outer suburban jurisdictions are expected to see the highest rates of growth, while the inner suburban jurisdictions and regional core will continue to be home to the greater number of jobs and the most population," according to a 2016 report from the Transportation Planning Board (TPB), another regional entity. "Most places that currently have access to transit will experience increases in the number of jobs that are accessible within a 45-minute commute. However, in 2040 transit may still not be a viable commute option for many people in the region due to lack of access to transit facilities and potentially long travel times. … The increased congestion on roadways and location of jobs and housing throughout the region would lead to a decrease in how many jobs on average can be reached within a 45-minute automobile commute."
"I'm a great believer in looking at 'housing plus transportation' costs," said Councilman Tim Lovain in an email. Lovain sits on NVTC and used to chair TPB. "The benefit of moving towards the periphery to get cheaper housing is greatly reduced by the cost and time spent with transportation. I strongly favor focusing development around our Metro stations and always including affordable housing in that development."
"Transportation policy and land use policy are interlinked," said Katie Cristol, Arlington's county board chair and NVTC's secretary-treasurer. "At one extreme, you have places where there is no density around Metro stations … and [homes there] are extraordinarily valuable. At the other extreme, you certainly couldn't point to anywhere in the region, and maybe not even the country, where density has solved the affordability problem. You'd almost have to look somewhere like Tokyo, where you have an extraordinary amount of density, such that you've fully met the market demand and you can get housing at all prices, right on top of rail." While jurisdictions may work aggressively to meet their own housing affordability goals, "are any of us even scratching the surface of the regional need? No."
In the meantime, NVTC works to coordinate six regional bus systems well outside the Beltway, including areas that Metrorail and Metrobus don't serve. And NVTA reckons that, if its TransAction plan comes to fruition, the greatest change in access to jobs would occur in Loudoun and Prince William counties, where homes are cheaper.
Smedberg hopes that citizens recognize "how interconnected we are as a region, particularly when it comes to transit, and how much coordination really goes on."
Cristol and Ebbin stressed that improvements anywhere benefit the region as a whole.
Lovain says it's important to "think like a region."