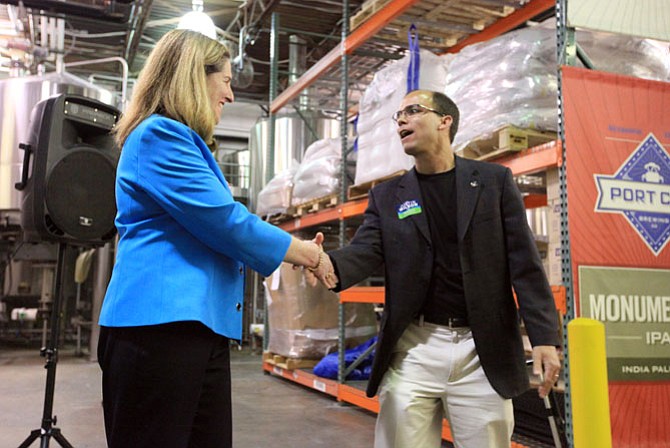 Vice Mayor Justin Wilson soundly defeated Mayor Allison Silberberg in the fifth annual Alexandria Democratic Committee Straw Poll on Sunday night, April 8. The unofficial poll, held at the Port City Brewing Company, was a little different this year – last year included the Democratic candidates for governor and lieutenant governor, but this year was full of local candidates running for mayor and City Council.
Wilson won the straw poll with 143 votes to Silberberg's 77 votes, but don't let the results fool you. Silberberg placed dead last three years ago in the same poll before beating former mayors Bill Euille and Kerry Donley in the June primary.
Wilson, who bounded onto the stage and shouted to the audience, said that his team's weekend goal of knocking on 1,000 doors was exceeded. He also said that he builds coalitions to solve problems, from road improvements to funding schools, and that it is unacceptable that 20 percent of city students do not have access to early public education.
"We should not only talk about our progressive future for Alexandria, we should see it through to reality," he said. "But ultimately, the job of mayor is not simply to show up, the job of mayor is to build coalitions to move good public policy forward and that is why I am running for mayor."
Silberberg, who also defended her record funding schools, said that she was proud of the work the city has made on remediating its deteriorated sewer outfalls and called herself a champion of ethics reform and affordable housing. She also said that Alexandria police, fire and safety personnel should be paid a livable wage — a sentiment that was echoed by a number of council candidates Sunday night.
"I'm fighting for a livable Alexandria, and that means that we need to ensure that those who are putting their lives on the line every day are getting a fair pay, our firefighters, our police, our sheriff's department —they absolutely should be paid appropriately," Silberberg said. "I have requested that the city manager from now on include the public safety teams in the budget guidance so that … they are included in the budget cycle and we are never in this situation again, because this has been a perennial issue."
Clarence Tong, chair of the Alexandria Democratic Committee, said, "I think this is already the second highest straw poll of any we've had – aside from the first one in 2014."

City Councilor Willie Bailey led the pack of a dozen council candidates with 132 votes, followed by Councilor John Chapman with 131 votes, Elizabeth Bennet-Parker with 107 votes, Dak Hardwick with 105 votes, Canek Aguirre with 101 votes and Councilor Paul Smedberg with 100 votes. There are only six available seats on the council, and the other candidates that did not make the unofficial cut were longtime City Councilor Del Pepper with 74 votes, Amy Jackson with 64 votes, Mo Seifeldein with 52 votes, Robert Ray with 40 votes, Matt Feely with 36 votes and five votes for Chris Hubbard, who did not attend the event.
Retiring City Councilor Tim Lovain, who served nine years on the council, said he might make an endorsement for mayor soon, but that it depends on when the candidate wants to make the announcement.
"This job really takes a toll on your health," he said at the event. "It's time to let somebody else to take this on. I've felt like I've accomplished a lot in nine years. I really enjoyed being part of a lot of the positive things here, like Potomac Yard Metro, the waterfront and I've tried to be a powerful advocate for smart growth."
Rod Kuckro, president of the Del Ray Citizens Association, is supporting Silberberg.
"She doesn't have a mean bone in her body. She's as honest as the day is long," Kuckro said. "I've never heard her say anything bad about anybody, but from my perspective in Del Ray, she's about preserving neighborhoods. She gets it, she supports community involvement and she backs up my neighbors. I like a slow, steady well-measured way of looking at the future."
Alexandrian Gail Gordon Donegan is the founder of the Alexandria chapter of Moms For Action and supports Wilson.

"I'm delighted by this result. I think Justin knows the budget better than anyone. He really knows the ins and outs of the money and how it has to be spent and where it comes from, and Allison has had some lofty ideas and some bad ideas and she's just not paying attention to the nitty-gritty."
The Democratic primary is on June 12.