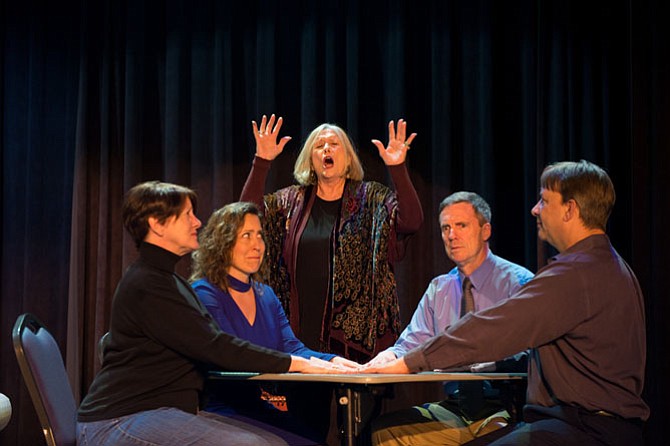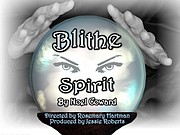 Vienna Theatre Company is presenting Noel Coward's 1941 comedy "Blithe Spirit" from April 20 to May 6, 2018. The play directed by Rosemary Hartman and produced by Jessie Roberts centers around socialite and novelist Charles Condomine, who invites Madame Arcati, the local spiritualist and medium, to his house to conduct a séance, hoping to gather material for his next book. The scheme backfires when he becomes haunted by the ghost of outspoken first wife, Elvira. Elvira makes continual attempts to disrupt Charles's marriage to his second wife, Ruth, who cannot see or hear the ghost. Worldly and unworldly personalities clash in a battle to see which "blithe spirit" wins.
"It's about a writer who's looking to write a new book and he asks a medium to come to his house to conduct a seance. He doesn't believe that this is real stuff but he wants to get a sense of what it's all about. They call it the tricks of the trade," said Hartman of Annandale who lived in Vienna for 25 years. "There is some kind of spirit floating around, that's why it's called 'Blithe Spirit.' We have a special effects person who is going to be doing a lot of special effects in that regard."
AS FAR AS AUDIENCE takeaways, she said she hopes they laugh and appreciate how hard this theater group works to entertain them. Having directed more than 50 plays, some of her current ones include "Boys in the Band" for Dominion Stage and "Master Class" for the Reston Players. Her last play for Vienna was "Other Desert Cities."
Katherine Metres Akbar of Alexandria plays the role of Ruth Condomine, the wife of the main character who finds herself in the awkward position of being in a marriage that becomes haunted by the ghost of the first wife.
"The biggest challenge was that basically I'm angry throughout the play. I have to try to find ways to make myself likeable. When you play a part, you are almost a lawyer for your character. My job is to make the case that my character's point of view is entirely justified," she said.
She added: "I think it's a portrait of a dysfunctional marriage, so obviously if you and your spouse have a challenging situation, you need to try to understand where that person's coming from and sympathizing with them instead of spinning off into paranoia and escalating."
Nancy Cahill of Prince William County, who has been acting for 50 years, plays the role of Madame Arcati, the medium that starts the whole mess and then finally resolves it. "She is a professional medium and she has since a child been able to communicate with the other side and hold seances and she's completely serious about her work. It's up to the audience to decide whether she's for real or pulling everybody's leg in some way or another," she said.
She said the role is very physical. "For example, every time she goes into a trance, she falls over. At one point I'm falling over the end of the sofa with my feet up in the air when I'm falling into a trance. I do that a couple of times," she said.
Eric Storck of Vienna, who has been involved in community theater for 30 years, plays the role of Dr. Bradman, a neighbor to the main characters in the show. "He's been invited to dinner with them to attend the séance; he's the town doctor," he said. "He comes in and he's sort of a skeptic. He doesn't believe in the medium so a lot of what he does is poking fun at that. He attends this seance and he attends to main character who gets injured."
He said the show is a classic Noel Coward play that's wildly popular around the world. "It's extremely funny. It's beautifully written and it's a feast for the ear in terms of language, and it's very clever on a lot of levels so the audience is going to come and enjoy themselves."
Allen McRae of Bealton, in Fauquier County, plays the role of Charles Condomine, a sort of upper class British of the Noel Coward type. "He's sort of enjoying the fact that he has two women fighting over him even though one is a ghost. He tends to let women get the best of him. He is doing research for a book that he's writing so he invites Madame Arcati over to do a seance. He wants to do research for his book. As a result of the seance, his first wife who has been dead shows up. Charles is the only one who can see or hear her. The rest of the play is the complications that come from that," he said.
He said the challenge was the Noel Coward's sophisticated lines. "The language isn't what we're used to here in America. The structure of the sentences is not the way we would say things so that was a little bit of a challenge," he said.
Mattie Cohan of Arlington plays the role of Edith the maid. "Edith is the only Cockney, working class character; she's new to the job eager to learn to do it right, but not the most skilled maid who's ever lived. She's actually pivotal to the resolution of the plot," she said.
She added: "I spent a lot of my youth watching Monty Python and I've done a British accent for another show before. Everybody's accents are high class. But this is a Cockney working class British accent. That was a fun challenge," she said.

VIENNA THEATRE COMPANY is presenting Noel Coward's 1941 comedy "Blithe Spirit" from April 20 to May 6, 2018. Show times are 8 p.m. on April 20, 21, 27, 28, May 4, 5; and 2 p.m. on April 29, May 6. Tickets are $14. The venue is at 120 Cherry St. SE, Vienna. Visit the website at www.viennatheatrecompany.org or email vtcshows@yahoo.com.