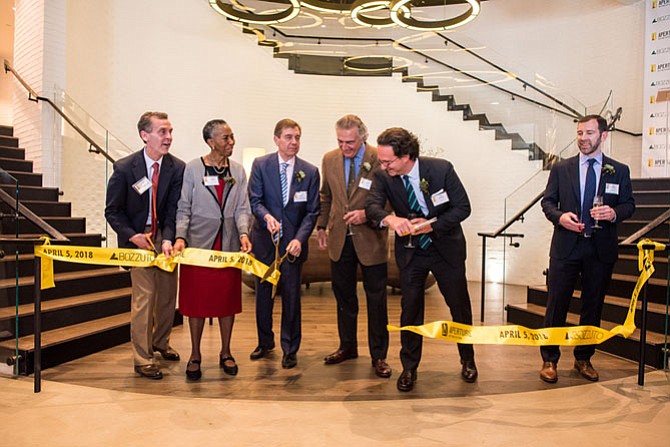 The Grand Opening ceremony and celebration for Reston's newest apartment community, Aperture at Reston Station, was held on April 5. Ribbon-cutting and VIP reception opened the event, followed by a celebratory party. The event was attended by more than 300 guests, including Aperture developers, The Bozzuto Group and Chuck Veatch, local dignitaries, key project partners, Aperture residents and their guests. Aperture is located across from the Metrorail entrance at 11410 Reston Station Blvd.
The ceremony featured remarks from: Mike Henehan, Senior Vice President, Managing Director for Bozzuto Development Company; Chuck Veatch, The Charles A. Veatch Co., joint venture developer of Aperture; Supervisor Cathy Hudgins (D-Hunter Mill District); Toby Bozzuto, President and CEO, The Bozzuto Group, and Tom Bozzuto, Chairman, The Bozzuto Group.
The celebration included a live band, flavorful spreads from local restaurants and caterers, specialty cocktails, a popular "Selfie Station" featuring Nature's Best Photography, and tours of the Aperture's amenities and model units.
Aperture is located at 11410 Reston Station Blvd. For more information or a tour visit LiveAperture.com/.