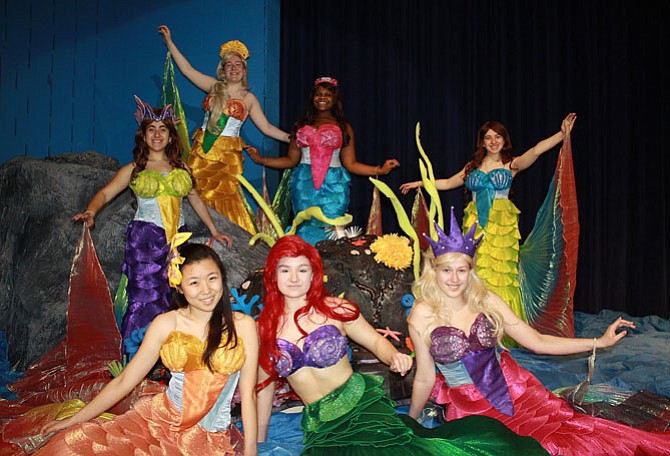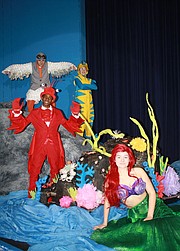 To Go
Show times are Friday-Saturday, April 27-28, at 7 p.m.; Sunday, April 29, at 1 p.m.; Thursday-Friday, May 3-4, at 7 p.m.; and Saturday, May 5, at 1 and 7 p.m. Tickets are $15 at the door, $10 via http://www.fxplay...">www.fxplayers.org and $8 for the matinees for children 12 and under. Also available are $30 VIP seats, up close in Ariel's grotto, and including light refreshments.
Ariel, Flounder, Sebastian and all the other beloved characters in Disney's "The Little Mermaid" are set to make a big splash on the Fairfax High stage. It's the school's Cappies show, and it's chocked full of music, color, excitement and fun.
The story is about Disney princess, Ariel, a mermaid who falls in love with a human. To be with him, she asks the show's villain, Ursula, to give her legs. But in exchange, she has to give away her voice. The show then follows Ariel's adventures, both above ground and in the sea.
The cast and crew of 70 has been rehearsing since February, and Director Erich DiCenzo says he's encouraged by their "camaraderie, dedication and support for one another. Everyone knows the iconic, animated characters in this show, and my cast has really dived in and brought them to life."
He's also excited for the audience to see the "explosion of color onstage through the singing, dancing, actors, set and costumes. Each ensemble number will represent a different species of fish in the sea and will feature elements of puppetry and unique costume construction." The fish will be different shapes and colors, and their fins will move.
"I think audiences will also be blown away by how everything's larger than life," said DiCenzo. "Whether it's a crab swinging on a life preserver over the audience, or a seagull literally flying overhead, the magic of Disney will truly be present."
"It's our first time at Fairfax doing a children's show, so we're excited to welcome a brand-new audience," he continued. "And after the matinees, children will get to meet the characters and receive a commemorative photo with Ariel and her friends. But we believe all our shows will be experiences theater lovers of all ages will enjoy and remember long after they leave."
SENIOR JOSIE MORGAN plays Alana,, one of Ariel's six mermaid sisters. "She's the peacekeeper among King Triton's daughters, but the others are jealous of Ariel because she's his favorite," said Morgan. "Alana loves being under the sea with all the sea creatures. Our big song is 'She's in Love,' where all the other sisters are gossiping about Ariel with her best friend, Flounder. It's fun to be in and it's a 1960s, bright and bubbly, pop-dance number."
Morgan likes her role because of Alana's songs and dances and because she gets to interact with many different cast members. "It's my fifth musical here and a memorable way to end my high-school theater career," she said. "And the mermaid sisters also double as princesses on land, competing for Prince Eric's love."
Calling this show a "spectacle," Morgan said, "We have bright colors, loud vocals, vibrant set pieces and extravagant, over-the-top characters. It's full of comedy and people will enjoy themselves. It's Disney – it's impossible not to."
Portraying Ursula, the evil octopus/witch, is senior Julie Kovach. "She's crazy, has multiple sides, is enticing and gets what she wants," said Kovach. "She's confident and manipulative and knows how to push people's buttons. She pretends to care about others so they'll fall into her trap."
Kovach loves showing her character's various facets. "She goes from envious to reflective and sad, and is never really happy," said Kovach. "She's evil and frustrated because she's been banished from the sea and believes everything's been taken from her and given to her brother, King Triton. It's a fun role because you don't get to be vicious in your everyday life."
Her favorite number is "Sweet Child," sung by Ursula's eel sidekicks, Flotsam and Jetsam. "It's eerie and manipulative," she said. "The eels are trying to persuade Ariel to come to Ursula." Kovach said the audience will enjoy the show's brightness, warmth, energy, colorful costumes and "fun cast. And the set – including a tire swing, bubble machine and pool-noodle decorations – makes the audience feel like they're part of the show."
Senior Thomas Iodice plays Jetsam. "He has a nasally voice and loves being with Ursula," said Iodice. "He, Ursula and Flotsam are like a family. Jetsam loves being evil and causing trouble, and it's fun being part of the evil trio inside this big cast." Iodice is also the show's set designer, master carpenter and special-effects designer.
"We extended the stage apron to go into the pit," he explained. "It lets the actors come a lot closer to the audience and move freely about the stage. And audience members sitting on each side of the apron will feel like they're actually under the sea. We're using colorful, pool noodles to portray coral framing the whole stage. We also built a massive boat with two sides; one side is Prince Eric's ship and the other side will look like a sunken ship under the sea. There'll also be two, big rocks onstage."
ABOUT 30 PEOPLE are helping build the set. Scenes take place in the palace ballroom, multiple locations beneath the sea, aboard Prince Eric's ship, Ariel's grotto, Ursula's lair and King Triton's courtroom. "I wanted the set to transport the audience to all the different places in the story," set Iodice. "And we'll also have lots of cool, lighting effects."
Portraying Chef Louis is senior Ian Kirkland. "He's a crazy chef infatuated with cooking fish," said Kirkland. "He's basically a cartoon character come to life, which makes him really fun to play. He's flamboyant, excitable and pretty outrageous. He's also a villain because he tries to cook Sebastian the crab for the palace dinner for Ariel."
Kirkland likes exploring his character's quirks. "As Chef Louis, I get to have a French accent and be super-exuberant with my expressions," he explained. "And my physical motions are over the top. My character is so silly and funny, kids will love him, even though he's a villain."
In the "Under the Sea" number, however, Kirkland is a puffer fish singing with the ensemble. "It's a paradigm of the sea life we're portraying," he said. "Everyone's lively and has their own character, while still uniting to support Sebastian."
He said audiences will love the show's vibrant nature. "Everything is there to wow people," said Kirkland. "They just have to sit there and let us entertain them. The crazy characters will make them laugh and really draw them into this world of 'The Little Mermaid.'"