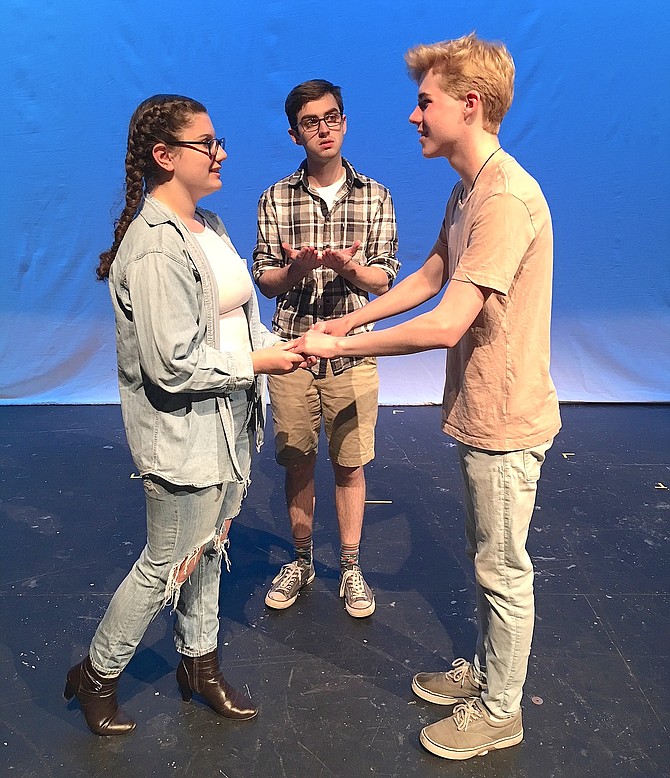 To Go
Show times are Friday, April 27 and May 4, at 7:30 p.m.; and Saturday, April 28 and May 5, at 3 and 7:30 p.m. (The ASL-interpreted show is April 27). Tickets are $5 at the door and online (for reserved seats) at http://www.wtwdra...">www.wtwdrama.org.
The play, "Our Town," is a classic of American theater and will soon be presented by Woodson High. The cast and crew of 45 have been rehearsing since February, and Director Terri Hobson says things are going great.
"This is the 80th anniversary of the premiere of 'Our Town' on Broadway, and a new version of the script was released based on playwright Thornton Wilder's writings about it and how he wanted it done," she said. "This is that version, a minimalist concept."
Hobson said Wilder really wanted to zero in on the story, themes and characters, rather than on elaborate sets and props. So, except for chairs, ladders and staircases, her actors learned how to pantomime the props and set pieces. Set in Grover's Corners, N.H., in the early 1900s, "Our Town" is about family, life and death, as well as understanding vs. ignorance.
"On the surface, you follow Emily Webb's life and important milestones, but it's about much more than that," said senior Andrew Black, who plays Emily's love interest, George Gibbs. "It teaches us that we shouldn't take things for granted, but should take time to really look at each other and build upon our interpersonal relationships."
CALLING HER CAST "delightful to work with," Hobson said, "The show became very special to me after my father passed away in December. He grew up in a small town in Massachusetts, and the stories he told me about that time really resonated with me, in relation to Grover's Corners and the simple but full lives people led there. I told my cast those stories and they loved hearing them, and it led them to a deeper understanding of this show and their characters."
"It's a timeless, American classic," she continued. "This is my 40th mainstage production here, but the first time we've done this play." She said the audience will be able to make many connections with the townspeople and their relationships to each other. And, she added, "They'll realize they have an opportunity to be grateful for every minute of every day."
Agreeing, Black said, they'll understand that "only in death do people learn how good they had it, just because they were alive." As George, he plays a high-school student and the typical boy next door. "He's awkward and has puppy love for Emily," said Black. "He's also the town's golden boy because he's his school's star baseball player. He's outgoing, rambunctious and a little immature, with a childlike sense of humanity."
Black said playing a romantic lead is a new experience for him. "George is so childlike and the epitome of ignorance because he never appreciates what he has, right in front of him," said Black. "I get to show his emotions, ranging from happiness to great sorrow."
He said this show will subconsciously haunt the audience because "It'll make them feel something and get them thinking about life, the human experience and relationships. And I'm hoping they'll fall in love with the characters and be part of George's and Emily's families."
Portraying Emily is senior Grace Bonaccorsy. Initially, she's in high school. "She's aiming for perfection in her life and thinks highly of herself," said Bonaccorsy. "She's always trying to be the best she can be and has lots of confidence, but she's also young, nervous and confused. She feels deeply and has emotional connections with others. When she loves someone, she loves them to the ends of the earth and would do anything for them."
Saying she's honored to play Emily, Bonaccorsy said, "This is my first major role, and to be this character is a beautiful experience. I connect with her emotionally. She goes on a very impactful life journey, and I like getting to go on it with her and figure it out." Bonaccorsy also said this play will appeal to all ages.
"It has innocence, love, heartache, drama and joy," she said. "There's a simplicity about the small-town life, but the story is intense, too. There's a big contrast between the first two acts and the last act. You see Emily's daily life and watch her grow up. In the last act, she's already died, but gets to relive one day in her life. But this time, it's different, because she knows the outcomes and it's painful for her to be there. She realizes that people don't understand how precious life is."
FRESHMAN Sara Willcox is the understudy for George's mom, Julia Gibbs, and will perform in the May 5 matinee. "She's a loving mother, content with her life, but doesn't necessarily want it to be that way," said Willcox. "She's happy and loves her family, but also wants to travel and visit a country where no one speaks English. Later, Emily mentions how she and George bought something with the money Julia would have used to travel to France."
Willcox likes her role because "I get to feel older than I am. Julia is powerful and has a strong stage presence, and I know what character traits of hers I want to come through. And I get to wear a long, ankle-length, burgundy skirt with a nice blouse."
She said this show conveys a message that'll speak to people at all stages of their lives. "It's different for each person," said Willcox. "But life is fleeting, and that's not a bad thing. We just need to know how to appreciate it while we have it."
Senior Sean Coady portrays Julia Gibbs in most of the shows and is also the play's technical director. Before it opens, she's busy organizing the technical crews responsible for hair, makeup, costumes, sound, lighting, publicity and set. She said the actors will wear modest clothing in bold colors. Girls will have long skirts, high collars, corsets and has, and boys will don suits with vests, hats and pocket watches.
"I have stage-management experience, so I work closely with our stage manager, Kelly Ward, to help design the show's special lighting effects," said Coady. "As for Mrs. Gibbs, she's one of my favorite characters I've played because she's very motherly, but in a calm, not strict, way. She seems wise in what she says and is just a lovely person to play."
Coady said the audience will appreciate "how much the show means to us. It's about a town where everybody is family, and I think that's how all of us in the theater department see ourselves."