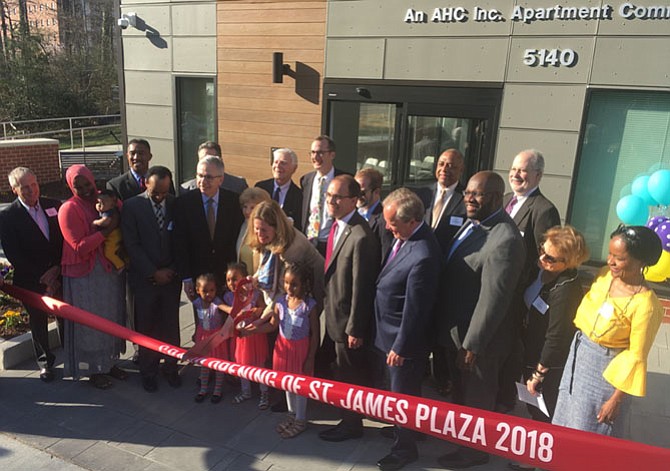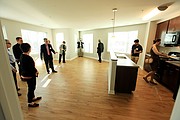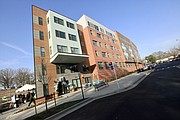 On Saturday, April 14, St. James Methodist Church celebrated the grand opening of 93 affordable apartments, newly constructed on property that it sold for that purpose.
St. James sold the land to AHC, a nonprofit developer, which in turn sold a portion to Craftmark, a market-rate developer. The new affordable units will serve households making between $43,700 and $65,500 for a family of four.
For perspective, starting salaries for Alexandria teachers, police and firefighters fall about midway within this range. Private sectors jobs that might fall within this range include administrative assistant, plumber, electrician and auto mechanic, according to the National Housing Conference's Paycheck-to-Paycheck database of occupations by metropolitan region.
When the 93-unit project opened in March, it had a wait list of 2,400.
Craftmark will build 31 market-rate townhomes adjacent to AHC's new building. The Campagna Center, a nonprofit, will also operate a preschool for up to 50 children on the premises.
"The church is about people, and connecting people, one with another and with that which is bigger than we are. As we visioned for our future, we wondered if this West End space might be utilized for something else," said the Rev. James Henry, St. James' pastor. The land was "not a space we were fully utilizing." The church also downsized its facility from about 12,000 square feet to about 2,000 square feet.
Fethudin Abdullah, his wife and children, new tenants in the building, participated in the ribbon cutting. They've lived in Alexandria for three years, previously in a market-rate unit. Their new affordable apartment will help with "saving our money," said Abdullah. "It helps a lot."
For its part, the city kicked in a $5.7 million low-interest loan, leveraging $19 million in low-income housing tax credits, which are a federal incentive to private investors.
"This project is a living example of how local government, a nonprofit, and a market-rate developer can work together to create welcoming community with a variety of housing opportunities," said John Snyder, vice chair of AHC's board.
"It's all a team effort. It's very human, it's very basic, the need for housing. It takes a real joint effort," said Mayor Allison Silberberg.
St. James is one in a string of churches getting into affordable housing. The Episcopal Church of the Resurrection's recently approved all-affordable project awaits an imminent decision on whether it's won an allocation of competitive tax credits. Fairlington Presbyterian is next in line. Alfred Street Baptist Church already owns affordable housing.
Asked where the faith community fits into a sustainable approach to housing, Councilman Willie Bailey said: "The faith community stepping up is … the Lord's work. … They're not only talking the talk, they're walking the walk. …We as City Council — City Council as a whole — Alexandria city, we have to step up and be a part of this as well."
Councilman John Chapman said: "It's this idea of local communities leveraging all of the community partners … Having churches that do have land or opportunity … is a great model. … The issue is looking at everybody, not just leaning on the churches. I think we've had recent success with a number of churches, which is a good thing. But we've got to look internally as well." The city might also explore affordable housing on land owned by the public school system and community college, he said.