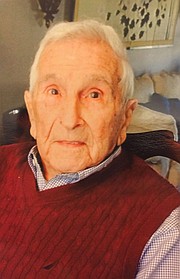 Long-time Alexandria resident Lawrence Manchio celebrates his 100th birthday with family and friends on Tuesday, April 24.
The son of an Italian immigrant and the second oldest of eight children, he was born in Wilkes-Barre, Pa. on April 24, 1918. He remembers selling The Times Ledger newspapers on the street as an 11-year-old the day the stock market crashed in October 1929. The Depression set in hard by 1932, and when his father became terminally ill and could no longer work, Manchio dropped out of school to work as a plumber's apprentice, giving his earnings to his mother to help pay for food and clothing for his family.
In 1934, he signed on to work for the Civilian Conservation Corps (CCC) as part of FDR's public works program where he and others cleared trees and rocks to build Skyline Drive. When the work for CCC ended, the Corps of Engineers in Pennsylvania hired him to help clean up Susquehanna River flood damage. When the project completed in 1937, he relocated to Alexandria to begin construction of National Airport and the Pentagon.
He lived in several boarding houses in the north end of Old Town before settling down on North Columbus Street. He walked four miles to and from National Airport daily to save bus fare. He met his future wife, Diva DiFelice, while attending Sunday Mass at St. Joseph's Catholic Church. They were married at St. Mary's Catholic Church on Jan. 23, 1942.
He joined the Army in February 1943. After basic training at Ft. Belvoir, he joined his unit in Australia and fought with MacArthur's forces through New Guinea, Borneo, Morotai, and the Philippines before landing in Japan as part of the occupation. Manchio and his unit were charged with guarding the Japanese Imperial Palace before returning home on December 1945.
He was discharged in 1946 and resumed working for the Corps of Engineers. As part of the Aqueduct Division, he specialized in building and developing the water system supply for D.C. and Northern Virginia. By the time he retired in 1973, he was supervising 53 civil servants.
In retirement, Manchio continued to serve his community and neighbors. He took pride in maintaining a meticulously landscaped yard, received numerous awards from the City of Alexandria in the '70s and '80s. In May 2013, his wife of 71 years died, but he continues to enjoy the company and support of his children who live locally. Manchio attributes his longevity and exceptional health to a Mediterranean diet, remaining physically active and drinking a glass of red wine daily. He enjoys reading, keeping up with current events and rooting for the Washington Nationals.