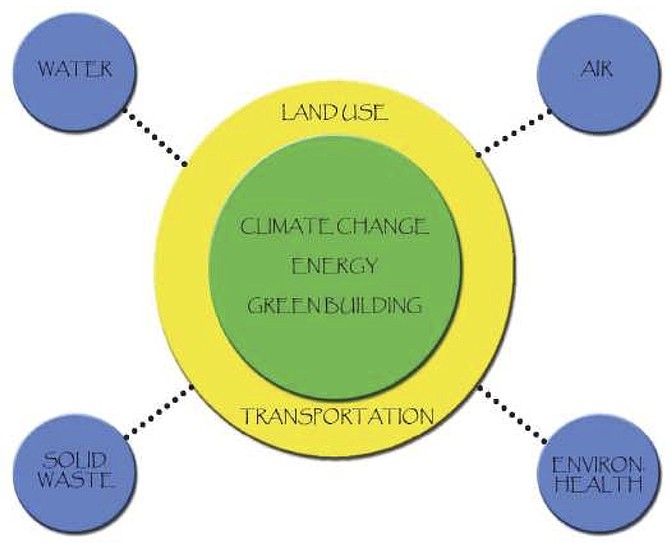 Alexandria Earth Day, April 28, is the last big opportunity to weigh in on recommendations to update the city's Environmental Action Plan (EAP), before they go to City Council in May.
Along with the Eco-City Charter, the EAP proposes to be at the center of the city's "constellation of plans," subordinate only to the city's Strategic Plan, overarching even the various master plans.
In September, the Environmental Policy Commission (EPC), comprising 13 citizen-volunteers, began a process to recommend ways to update the EAP. The update, deferred since 2014, comprises two phases over two years. The first phase goes to council for action next month, in the form of 14 recommendations, currently in draft form, under five headings: climate change, energy, green building, land use and open space, and solid waste.
CLIMATE CHANGE
While the EPC prefers not to assign relative priorities to these issue areas, Jim Kapsis, EPC's chair, said that climate change might be the most "cross-cutting."
The EPC aims to "institutionalize climate change into long-term planning" and "reduce per capita greenhouse gas emissions." These goals would entail establishing a new Climate Change Coordinating Commission; incorporating greenhouse gas emission projections into capital planning; and studies of how to mitigate rising sea level and various potential consequences related to public health.
ENERGY
The EPC wants the city, starting with city-owned buildings, to use less and cleaner energy.
The city could fully offset its buildings' energy usage by purchasing Renewable Energy Certificates (RECs), for something like $70,000, said Kapsis. RECs are tradable instruments that allow consumers without their own renewable energy generation capacity to buy renewable energy from the common electricity grid. They "are the currency of the renewable energy market" and "support renewable energy projects" nationwide, according to an EPA tutorial. More than 50 cities have already taken similar action.
Other proposals include establishing a city policy and funds for efficiency improvements; upgrading lighting to LED; incorporating electric vehicles into publicly owned fleets; and by piloting a "district energy system," whereby multiple buildings would share the same heating and cooling equipment.
GREEN BUILDING
"Buildings account for almost 40 percent of national [carbon dioxide] emissions and out-consume both the industrial and transportation sectors; but certified green buildings have 34 percent lower CO2 emissions, consume 25 percent less energy and 11 percent less water, and have diverted more than 80 million tons of waste from landfills," according to draft proposals.
The EPC proposes increasing standards for "net zero energy," green energy certification, and water consumption and runoff — first for public buildings, and then for private construction and renovation through the development and permitting processes.
Although green improvements could pay for themselves within seven years, Planning Commissioner Maria Wasowski expressed concern about the added cost for small projects.
Planning Commissioner Nathan Macek urged flexibility for developers to explore the most cost-effective means to achieve "the spirit of what we're trying to accomplish."
Planning Commissioner Melissa McMahon suggested that greater specificity and clarity of enforceable standards might be helpful. She expressed doubt that the current practice of merely determining projects' "consistency" with top-level plans, such as the EAP, is sufficient for making meaningful progress.
The EPC proposes designating "Green Development Zones," which would encourage green building through incentives like bonus density, tax abatement and fee waivers.
LAND USE & OPEN SPACE
The EPC wants to integrate the EAP across the city's many departments, boards and commissions. They propose that the city systematically "review and revise" all "plans, policies, practices, and performance measures" for, at the least, the Departments of Planning & Zoning, Transportation & Environmental Services, Project Implementation, and Recreation, Parks and Cultural Activities.
The city's hiring Ellen Eggerton last year as its first sustainability coordinator is generally regarded as a positive step; although some would like to have seen her position established higher in the administration's food chain.
The EPC also aims to increase the "quantity" and "quality" of open space by increasing certain planning targets; reestablishing the Open Space Fund and Open Space Steering Committee; and requiring "consistent and meaningful open space on private development."
The city might set narrower geographical targets and increase certain building height restrictions to allow for more open space in high-density areas, said EPC member Stephen Milone.
Also, the city should track progress against more specific categories based on "what the open space is doing for us," she said, supporting an idea from Macek. For example, a rooftop garden filters storm water, but isn't social; a plaza is social, but not green.
SOLID WASTE
The EPC wants to reduce both the city's overall generation of solid waste and, paradoxically, its recycling rate, from 50 percent to 42 percent.
"While this may seem counterintuitive, we feel it is essential to recognize how promoting ever higher recycling rates ignores the economic reality of the current recyclables market," said an earlier draft proposal. "This market is changing and becoming less inviting for the sale of lower quality, single-stream recyclables, as evidenced by China's recent move to restrict imports of foreign recyclables. Decreasing demand for recyclables … can create a perverse incentive for municipalities to prop up their rates with counterproductive policies …."
For example, because the city calculates its recycling rate by weight, glass plays a big role, when in fact glass ends up in landfills anyway. The earlier draft said that this "pseudo-recycling" is not consistent with "the way most citizens would expect" recycling to work.
Kapsis also explained that robot technology for effectively sorting the many different kinds of plastics that end up in single-stream recycling has not yet scaled in the industry.
Find materials, including updated draft proposals, at www.alexandriava.gov/EnvironmentalPolicyCommission and www.alexandriava.gov/Eco-City.
Alexandria Earth Day is scheduled for 10 a.m. on Saturday, April 28, the Lenny Harris Memorial Fields at Braddock Park, adjacent to George Washington Middle School.