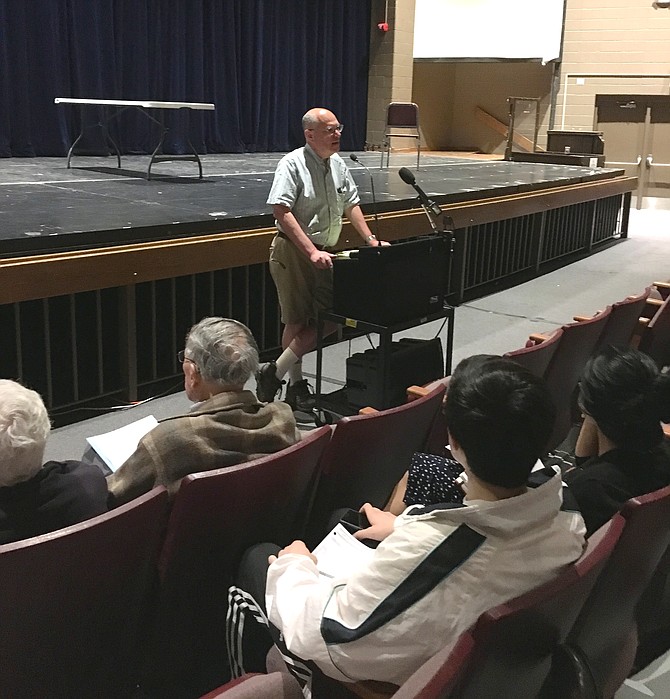 More than 200 members of the Walt Whitman High School community met at the school Monday night, April 23, to discuss Maryland State Highway Administration's (SHA) proposed safety enhancements along River Road near the school.
"This is just a community meeting to get feedback," said Richard Boltuck, who conducted the meeting.
Pedestrian and vehicular safety along River Road, Maryland State Route 190, between Pyle Road and Braeburn Parkway, has been an issue for years according to several community members who spoke at the meeting.
Citizen concern reached a new height in February 2016 when three members of the Buarque De Macedo family were killed while making a left turn off River Road onto Braeburn Parkway. They were on their way to a play at Whitman High School.
Community members met in June of that year to urge the SHA to create a plan for safety changes to the Braeburn Parkway intersection and to the pedestrian crosswalk nearby.
The proposed change for Braeburn Parkway is to replace the flexible posts installed after the 2016 accident with a concrete curb to channel left turns from River Road onto Braeburn Parkway. That also restricts through and left turns from Braeburn Parkway onto eastbound River Road.
The second change, to the current pedestrian crosswalk on River Road, calls for the installation of pedestrian operated signals stopping traffic to allow for safe crossing of the road.
"There have finally been some important positive steps toward improving safety at the River Road crosswalk to Whitman and to the back entrance to the school at Braeburn Parkway," Whitman principal Alan Goodwin wrote in an email urging the Whitman community to attend the meeting. "We must make sure that the proposed improvements are made while continuing to explore further safety enhancements."
After an hour of comments from attendees, some urging the adoption of the SHA improvements, others saying to reject them because there were better ideas … more was needed, and still others calling for a combination: adopt and also move forward lobbing for other changes.
The community especially wants River Road, from Braeburn Parkway to Pyle Road, to be designated a school zone. So far, the SHA has rejected that idea.
Kate Robinson, who has a daughter at Whitman and a son in seventh grade who will attend the school, said she does not feel the current proposal in sufficient.
"I would like to add that [River Road] should be a school zone, the speed limit should be lowered and there should be speed cameras," she said.
At the end of the evening, an informal vote was taken on each of the SHA's proposals.
"The SHA had legal authority to do what they want," Boltuck said. "[But] SHA does care about [public input]."
Voting to agree that SHA "designate the stretch of river Road including the stretch of River including the Braeburn Parkway intersection a school zone and to install speed cameras" was practically unanimous. Only one vote was cast against that idea.
The next vote, on the changes to the Braeburn Parkway intersection, was not in favor of SHA. A majority — 147 to 64 — did not agree that the proposal "improves safety sufficiently and provided adequate community benefits …."
Voters did not feel the SHA proposal to change the Braeburn Parkway intersection improved safety sufficiently or provided adequate community benefits. They chose instead a recommendation to SHA that the SHA Braeburn-Parkway proposal, if implemented together with a school-zone designation, would be safer and preferable to SHA's Braeburn Parkway proposal alone.
As for changes to the crosswalk, most voters agreed to support the SHA proposal, voting that " … the proposal improves safety sufficiently and provides adequate community benefits." That vote was 182-11.
At the end of the meeting, Boltuck said he thought it went well.
"The ultimate objective was to get alignment between SHA and the community," he said. "Additionally, we want a designated school zone, we want to slow down traffic."
This article was updated on April 26 & 27, 2018.