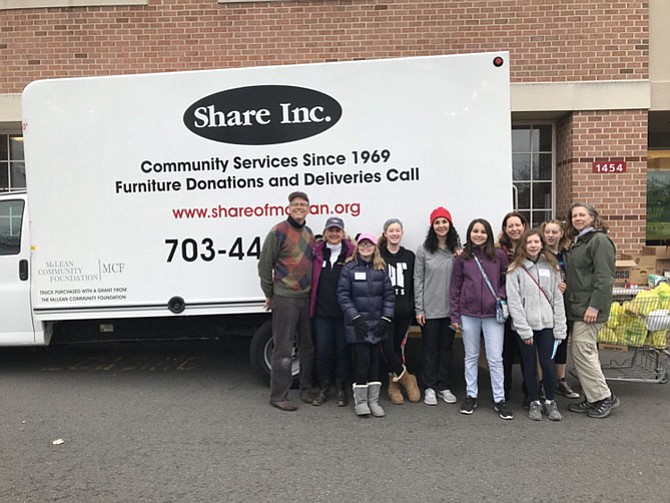 SHARE of McLean and The New Dominion Women's Club held a very successful food drive at Giant Supermarket on Chain Bridge Road to benefit the food pantry at SHARE. Neighbors showed their support by purchasing 500 bags of groceries pre-sorted by Giant as well as donating $1,250 in cash and gift cards to go toward additional purchases. An additional "wish list" of items needed was also provided to shoppers. The food drive helps SHARE provide groceries to qualifying residents of McLean, Falls Church, and Great Falls.
"We were very pleased with the outpouring of support from our community for the food drive for SHARE. It is such a wonderful organization. Members of our club and their families volunteered at Giant and also helped sort items/unload the truck at the SHARE pantry. You can always check SHARE's website to volunteer and to find out current needs," said Faisa Stafford, Food Drive Coordinator from New Dominion Women's Club.
SHARE provides many services to those in need. In addition to stocking a grocery store style food pantry, it also donates used laptops, clothing, linens, and furniture.
SHARE hosts a huge annual Holiday Party which includes gifts for all its clients. It also conducts a Back-to-School supplies program in August for students. Other services include financial guidance and health screenings. Volunteers range in age from teens through seniors. There are opportunities for community service hours. Food donations are accepted on Wednesdays and Saturdays at 9 a.m. - 12 noon.
For more information and to find out how you can help, visit www.shareofmclean.org.
For more information about the club, visit www.ndwc.org/celebrate-50.