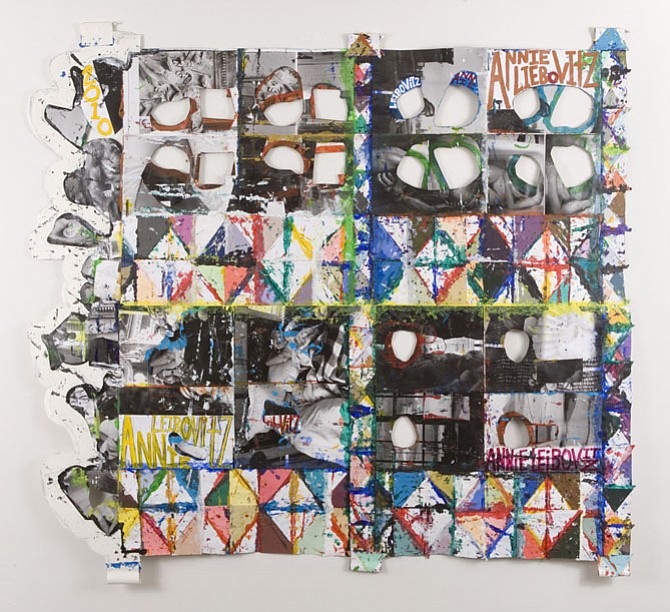 The Greater Reston Arts Center (GRACE) is presenting Mike Cloud: Figure Studies, featuring Brooklyn-based artist Mike Cloud, on view April 28–July 7. This is the first time Cloud's work has been shown in the greater D.C. area.
Figure Studies addresses how we read symbols, shapes, faces, and history. The exhibition includes the artist's critically acclaimed series of Leibovitz Orange collages, a selection of paper quilts, and painting.
The title refers to the artistic exercise of creating preparatory drawings, often using live models, to most exactly portray the human form. The exhibition is organized around Cloud's version of a prevalent scene in Renaissance history painting, The Rape of the Sabine Women, entitled Cycle and Stable (2015). He does not follow in the tradition of history painting per se with his depiction. Instead, he insists on his subject through written language.
Cloud asks us to question our assumptions and look at the way we look. For the Leibovitz Orange collages, 26 of which are included in this exhibition, and Paper Quilts Cloud mined Annie Leibovitz's photographs for moments he could dissect and repurpose to question subjective systems of perception. He plays with ideas of celebrity and recognition in a poignant presentation of humanity.
His work is held in private and public collections including The Bronx Museum, New York; Lincoln Center, New York; and the Metropolitan Museum of Art.
Upcoming events include: Artist Talk -- April 28, 4 p.m.; free and open to the public, Greater Reston Arts Center; Opening reception -- April 28, 5–7 p.m.; free and open to the public, Greater Reston Arts Center; Creative Responses -- May 31: Presenter TBD; June 28: Tim Doud -- 7 p.m.; free and open to the public, Greater Reston Arts Center. Gallery hours: Tues–Sat, 11 a.m.–5 p.m. For more information, visit restonarts.org