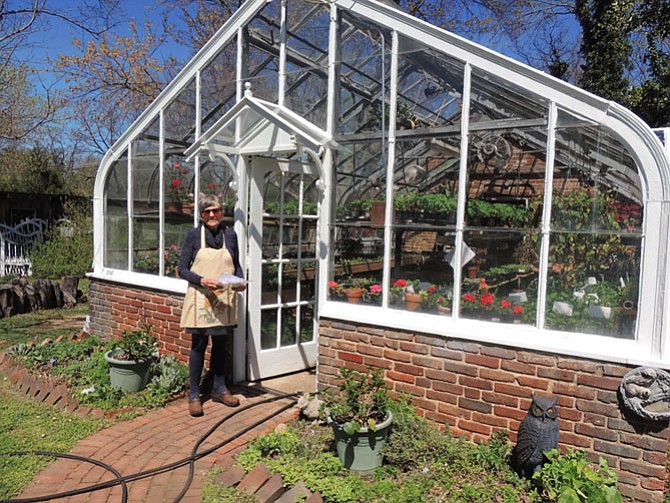 The Mount Vernon Unitarian Church greenhouse is open for business with a Spring Plant Sale every Saturday and Sunday 10 a.m. to 2 p.m. until mid- June. The 1930s Art Deco greenhouse is known for its knowledgeable volunteers who grow vegetables, herbs, and flowers from seeds and cuttings using organic practices.
The specialties are heirloom tomato plants, peppers, unusual or old-fashioned flowers, as well as hybrid tomatoes and a variety of herbs. Visitors will find Cherokee Purple, Mortgage Lifter, Hawaiian Pineapple, as well as, Roma and Early Girl among the more than 30 varieties of tomato plants.
Peppers include Biggie Chili, Big Bertha, Cubanelle and Early Sunsation, as well as, Devil Serrano and more.
Flowers include, cuphea which is a hummingbird magnet, foxglove (which deer don't like), bachelor button, marigold, salvia, four-o-clocks, balsam, Sweet William, Shasta Daisy, larkspur, nigella. and more. Greenhouse plants are supplemented with larger perennial plants purchased from a Virginia grower.
Visit the greenhouse at the top of Mason Hill next to the windmill on the grounds of the Mt. Vernon Unitarian Church, 1909 Windmill Lane.

The MVUC Greenhouse was built in 1930 by the Lord and Burnham Co. of Lexington, N.Y., which, at the time, was the country's premier greenhouse design and construction company. They continued to build greenhouses until 1990. Their most notable greenhouses include the conservatory at Golden Gate Park in San Francisco, the Smith College Greenhouse, and the original 1933 conservatory at the National Botanical Garden in Washington, D.C.