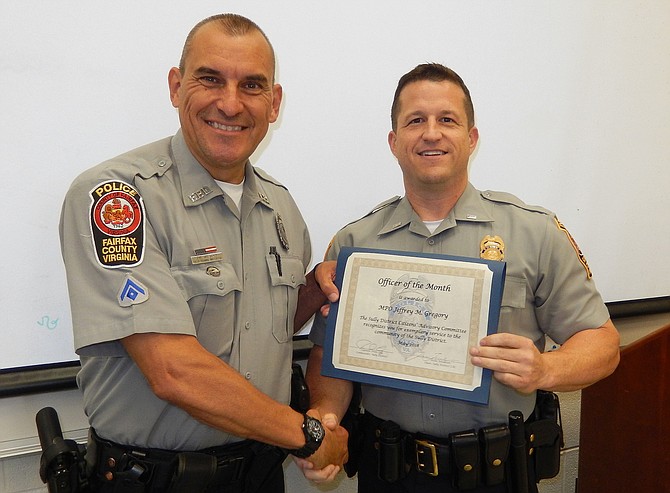 For his efforts that helped save a baby's life, MPO Jeffrey Gregory was selected as the Sully District Police Station's Officer of the Month for May. He was honored at the June 13 meeting of the station's Citizens Advisory Committee.
In his letter nominating Gregory for this award, 2nd Lt. Tim Burgess wrote that police officers were recently dispatched to a home in response to the possible death of a 1-year-old infant.

"A distressed home-daycare provider had contacted 911 and stated that a child in her care suddenly went limp and was unresponsive," said Burgess. "Officers hurried to the Centreville residence as the panicked daycare provider initiated CPR."
Gregory, a 26-year veteran of the Fairfax County Police Department, was in the area and was the first to arrive at the address. He entered the home, quickly assessed the situation and realized that the childcare provider was both frightened and physically exhausted.
"Without hesitation, MPO Gregory continued emergency, lifesaving efforts," wrote Burgess. "Once paramedics arrived, they assumed advanced life-support efforts and hurried the child to the hospital in serious condition. Miraculously, the baby maintained a pulse throughout the ordeal and – despite emergency surgery to treat an underlying medical condition – survived."
Burgess noted that Gregory has provided "over two decades of commendable service to the citizens of Fairfax County." Furthermore, he added, "As Gregory approaches the end of his exceptional career, he remains committed to the service of others and remains a role model, mentor and exceptional example to younger police officers."
Referring to the above incident, Burgess said Gregory's actions on that date were "commendable and indicative of the values and professionalism of the Fairfax County Police Department. His training and expertise – as well as his ability to take command of a situation and make split-second decisions under extreme stress – helped to save the life of an innocent child. Therefore, it is my honor to select Master Police Officer Jeffrey Gregory as the Sully District Station Officer of the Month for May 2018."