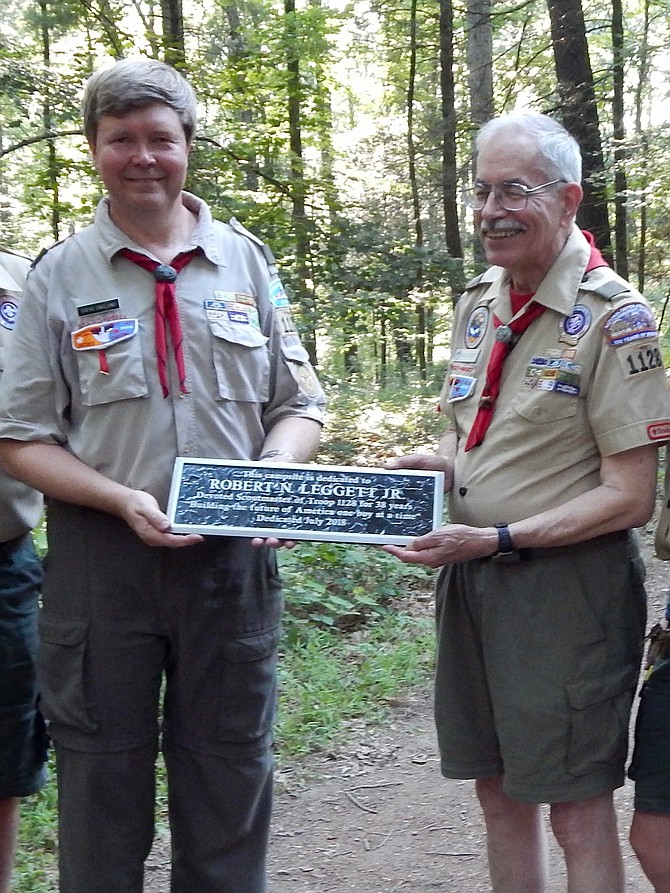 Great Falls resident Bob Leggett, Scoutmaster of Boy Scout Troop 1128, sponsored by Andrew Chapel United Methodist Church in Vienna, retired in April after 38 years as Scoutmaster of the Troop. To honor his service the Troop and Church families raised funds to name the sub-camp within Camp Bowman at Goshen Scout Reservation that the Troop visits each summer, Camp Leggett.

Participants in the ceremony were sixty-five boys from Troop 1128 who were at Goshen for the week, the new Scoutmaster, Steve Englund, numerous Assistant Scoutmasters, Dennis Hall, chartered organization representative from Andrew Chapel, Phil Barbash, Director of Operations at Goshen Scout Reservation, and Les Baron, Scout Executive/CEO of the National Capital Area Council of the Boy Scouts of America.
The dedication plaque includes a quotation from Bob and reads:
"This campsite is dedicated to Robert N. Leggett Jr. Devoted Scoutmaster of Troop 1128 for 38 years 'Building the future of America one boy at a time. Dedicated July 2018"
Scoutmaster Leggett was involved in Scouting as a boy. He earned his Eagle Scout award in Vicksburg, Miss. He also earned the Explorer Silver Award and God and Country Award, and was inducted as a Vigil member of the Order of the Arrow.
When Scoutmaster Leggett took over leadership of the troop in 1980, there were nine boys in the troop. At its peak the troop grew to more than 110 boys. It currently has more than 85 boys.
During Leggett's tenure as Scoutmaster the troop developed a strong boy-led program. The Troop supported and encouraged 150 young men who became Eagle Scouts.

He implemented a very active camping, backpacking, and high adventure program, leading and participating in many of the activities. The troop typically sends 60-70 scouts to Goshen Scout Reservation each summer. The high adventure program included trips such as backpacking at Philmont Scout Ranch in New Mexico, Wind River Range in Wyoming, Canadian Rockies, Olympic National Park, Beartooth Range outside Yellowstone National Park, Eagle Cap Wilderness in Oregon, and a local high adventure trip in Pennsylvania and West Virginia. Bob has made six Philmont treks, the most recent in 2010 at age 70.
Leggett has also been active in BSA events outside of Troop 1128. He is Wood Badge trained. He has taught many District and Council training courses, and has served on both District and Council committees. He has served at 7 National Jamborees, including 5 as Scoutmaster. Twice he was selected by the National Capital Area Council of the Boy Scouts of America to attend the national meeting of 50 scoutmasters from around the country to discuss and provide feedback on future program directions.

Leggett has received the District Award of Merit, the Silver Beaver Award, the God and Service Award, two awards for service to Goshen Scout Reservation, and the National Eagle Scout Association (NESA) Outstanding Eagle Scout Award (NOESA).