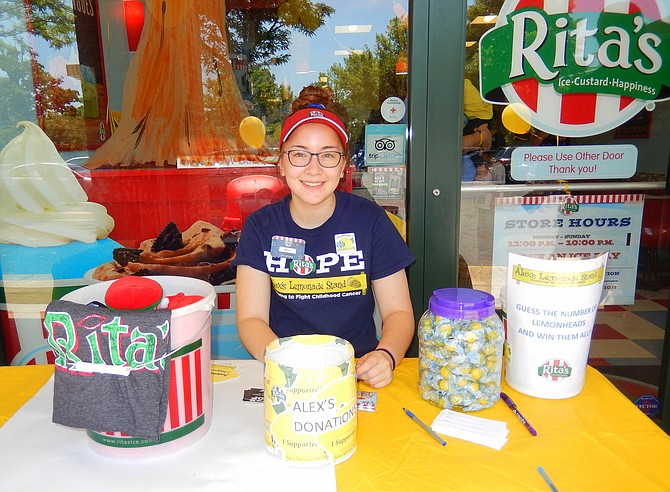 "When I meet my maker, the first thing I'll ask is, 'Why do children get cancer?'" —Jeannie Buhr, mother of leukemia survivor
Combine children, frozen treats, a good cause and a hot summer day, and you get a fundraiser for the Alex's Lemonade Stand Foundation. And the recent one held at Rita's Italian Ice in Fairfax marked the fifth year this local business has partnered with ALSF.
The nonprofit is dedicated to finding cures for children with cancer; and during the event, the store donated 50 percent of its proceeds to it. Rita's also had a "Chief Ice Maker," celebrity scooper Ava Buhr, a leukemia survivor and rising fourth-grader at Fairfax Villa Elementary.
"I said, 'Welcome to Rita's' to the customers, scooped Italian ice and put on sprinkles," said Ava, 9. "And I liked giving people samples on tiny spoons and sampling the flavors myself."
"She's been a great help," said store owner Jacque Whang. "She may have a job here in a few years."
FOR THE FUNDRAISER, local businesses donated prizes for a raffle and a resident donated her time to do face painting. In addition, customers were able to buy paper lemons for $1 each and write their names on them. The lemons were then displayed on the store windows throughout June, and all the proceeds went to ALSF.
Rita's even served a special treat that day called "Ava's Gelati." It was Italian ice with Swedish Fish candy-flavored ice and vanilla custard and topped with yellow, Alex's Lemonade sprinkles. "Swedish Fish is a popular flavor here," said Whang, who's owned the business since 2012. "For people who like the candy, it tastes just like it, and Ava's favorite candy is Swedish Fish."
Ava also likes texting with friends, loves playing Minecraft and Roblux on the computer and is learning to swim. Described by her mom, Jeannie Buhr, as "kind, easygoing and helpful," Ava also wins the Golden Citizenship Award at her school, each quarter, for being a polite and good student and setting a good example for others.
But life hasn't always been so rosy for her; when she was 2-1/2, she was diagnosed with acute lymphoblastic leukemia (ALL). "She had a random fever in August 2011 and it went away," said Buhr. "But it came back, the week before Thanksgiving. Her pediatrician did blood tests and said, 'I think she has leukemia.'"
Ava then saw a hematologist at the Center for Cancer & Blood Disorders in Falls Church. After a bone-marrow test, the diagnosis became official. "You're a deer in the headlights and you think, 'That can't be happening – she's only 2," said Buhr. "I was frightened because I thought I was going to lose my child."
But when she learned of the high success rate of the treatment for this disease, nowadays, she also thought Ava would be treated and well in a couple months. However, leukemia treatment for girls takes 2-1/2 years.
So Ava received chemotherapy via a port in her chest, plus monthly spinal taps. The chemo went into her spine and up to her brain. "Thankfully, she was so young, she doesn't remember any of it," said Buhr. "She also had to take steroids, which made her moody and angry for a week every month. Other than that, she was in good spirits."
However, because the chemo wiped out Ava's immune system, she was isolated from her friends. But toward the end of her treatment, the nonprofit Hopecam gave her preschool classroom a laptop so she and her classmates could connect.
Ava finished treatment March 21, 2014 and is designated as in remission. When she hits the five-year mark, she'll be considered cured. She currently undergoes blood tests every six months; but after March 21, 2019, it'll be just once a year for the rest of her life.
"When she was going through treatment, I wanted to raise awareness of the need for a cure, and Ava likes lemonade," explained Buhr. "So for the past five years, we've had an Alex's Lemonade Stand outside our house, usually the weekend of June 8-10, for National Lemonade Days. Ava's principal, Elizabeth Bumbrey, comes to it every year, so she's been very supportive."
And, added Buhr, "Fairfax Fire Station 40 got involved, told firefighters at other stations, and 20 firetrucks and ambulances came to our community just for our lemonade stand. It was amazing – my neighbor thought my house was on fire!"
Overall, she said, "We've raised $5,000 for Alex's Lemonade Stand that way. And through other organizations – including Hopecam, DC Candlelighters and the Leukemia & Lymphoma Society – I've raised over $40,000 for childhood cancer research."
Buhr said it's important to her that Alex's Lemonade Stand is focused on research. "The National Cancer Institute only allocates 4 percent of its budget toward it," she said. "And the kids go through adult chemo from 30 years ago because there's not enough funding to develop new treatments."
"I told my husband, one day when I die and meet my maker, the first thing I'll ask is, 'Why do children get cancer?'" she continued. "So that's why I'm on the boards of Hopecam and DC Candlelighters, because I need to give back so I can keep helping these families. I met the devil and I know what they're going through."
Regarding the fundraiser at Rita's, Buhr said, "We always come here anyway because we love Rita's. So when one of Alex's Lemonade Stand's representatives told us they wanted Ava to be their celebrity Chief Ice Maker at Rita's for a day, we said, 'Sure.'" She's also considered an "ALSF Hero" – a child with cancer who helps the foundation with its mission.
THE FUNDRAISER yielded $675 for the organization, and Whang was glad to host it at her business because "It involved kids, and Rita's is family-friendly and community-oriented. And what Alex's Lemonade Stand does for families going through cancer is amazing."
"Most of our customers are families with children, so being able to make a difference for families is why we do these type events," she continued. "Alex's Lemonade Stand turns something unfortunate into something that gives them some hope and joy. And seeing Ava with a smile on her face makes me happy."
---
The organization arose from cancer patient Alexandra "Alex" Scott's (1996-2004) desire to help other children like her. In 2000, 4-year-old Alex held a lemonade stand to raise money toward a cure for all children with cancer.
Since then, the foundation bearing her name has raised more than $150 million. It's funded more than 800 pediatric-cancer research projects nationwide and provides support to families affected by childhood cancer. For more information, go to AlexsLemonade.org.