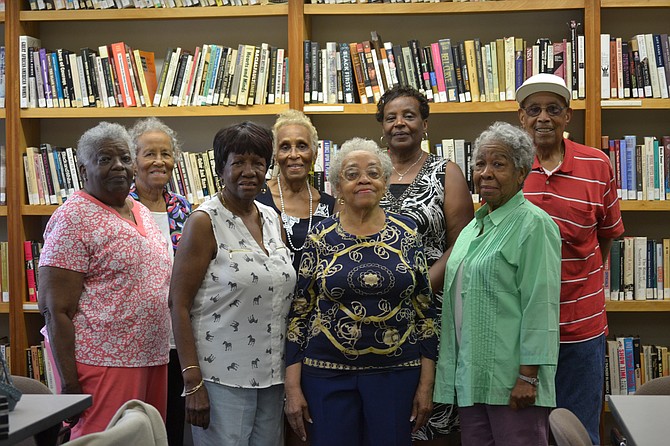 Before 1920, the Alexandria African Americans had two segregated elementary schools: Hallowell School for girls in the 400 block of North Alfred Street and Snowden School for boys in the 600 block of South Pitt Street that were founded in 1870. After years of overcrowding and deterioration of the school buildings, the African Americans demanded for better education and for better facilities for their children. Those efforts were led by Reverend Samuel B. Ross, pastor of Third Baptist Church, Samuel Tucker, Samuel Madden, Blanche Parker-Taylor, Henry T. Taylor, the Teachers' Association and other alumni of Hallowell and Snowden Schools. The outcry from the community caused the city to build a school that would have first through eighth grades. The school was named after two popular principals from Hallowell and Snowden schools, John F. Parker and Sarah A. Gray.
Because of insufficient funds, the African American community raised about $4,000 to purchase chairs for the auditorium, stage curtains, waste baskets, desk clocks, coat racks for teachers and $1,000 worth of equipment for the home economics room, reference books, roller maps, globes, typewriters and other needed school supplies. The parents and the students were very proud to have a new school but it was not equal to their white counterpart schools. Parker-Gray school only went to the eighth grade and the law in Virginia at that time required students to attend seven years in elementary school and four years in high school. If an Alexandria African American wanted to complete high school during the 1920s and 1930s, they usually left Alexandria and went to Washington, D.C., or they would have to go to Jeannie Dean's School in Manassas, Va.
In the 1930s, there was another outcry from the Alexandria African American community concerning education for their children. This time they wanted their school to have a high school curriculum. Under the leadership of Mr. Wesley D. Elam, then principal of Parker-Gray, was instrumental in expanding the high school to the 11th grade. Students who wanted 12th grade left Alexandria to obtain it.
On the national level, the civil rights movement was in full force. With the introduction of the civil rights amendment and equal facilities for all, Parker-Gray School segregation system came to an end. The last graduating class of Parker-Gray High School was 1965. Ten years later in 1975, a group of former students of Parker-Gray came together to start, "The Alumni Association of Parker-Gray." The group's first president was Mr. James E. Henson. They had their first Parker-Gray reunion in August of 1976. Today the Alumni Association continues to have a banquet weekend celebration every other year. They award scholarships to descendants of Parker-Gray's students.
Since the Alumni started in 1975, they have had over two-dozen presidents, some of these presidents were Alice Thompson, James Beatty, Barbara Norton, William McBride, Phyllis Tate and Milton Turner. The current president is Catherine Ward. On Aug. 17-18, 2018, the Alumni Association will be celebrating their 98th anniversary of Parker-Gray School. The former students' memories of their school and teachers are still with them. Some of the students who left Parker-Gray went to college. Many of the students became government workers, educators, college professors, lawyers, judges, doctors, bus drivers, sports figures and entrepreneurs. Although the school was never properly funded nor did it have a 12th grade, their teachers and staff were dedicated to their students and prepared them to be the best they could be. With that dedication, the Parker-Gray Alumni Association continues to keep the memories of Parker-Gray School alive.
Char McCargo Bah is a freelance writer, independent historian, genealogist and a Living Legend of Alexandria. Visit her blog at http://www.theotheralexandria.com for more about "The Other Alexandria."