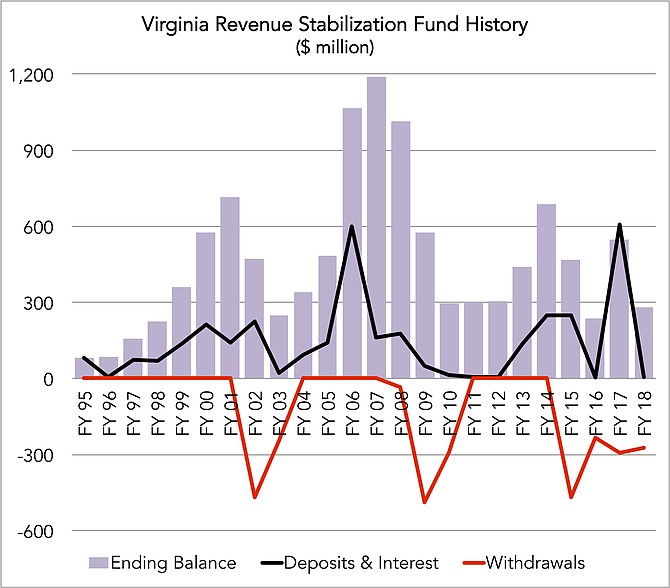 Virginia closed out FY 2018 in June with a budget surplus of just over $550 million. This amount "will substantially increase the Commonwealth's cash reserves in order to protect taxpayers against a future economic downturn and further affirm our valuable AAA bond rating," said Gov. Ralph Northam (D) in a July 12 press release.
In a July 24 interview, Del. Mark Levine (D-45) provided a more specific preliminary breakdown of how the surplus will be allocated, although precise figures won't be available until August.
Some $235 million will go automatically to replenish Virginia's Revenue Stabilization Fund. The state has drawn down on this fund, established by a constitutional amendment in the early '90s, several times since the 2008-09 financial crisis. Credit rating agencies warned that, at currently low levels, Virginia might risk losing its AAA/Aaa bond ratings. The surplus infusion would bring the fund's balance up to a little over half-a-billion dollars — a near doubling, though still below pre-crisis highs.
Some $55 million of the surplus will automatically go to the Water Quality Improvement Fund. This fund, established in the late '90s, serves to clean up the Chesapeake Bay and its watershed.
The remainder, some $260 million, will go to the recently created Revenue Reserve Fund. This fund "shall be used to offset, in whole or in part, certain anticipated shortfalls in revenues," according to the Code of Virginia. It serves as a kind of augment to the Revenue Stabilization Fund, said Levine.
He expects the first and third allocations together will bring Virginia's total reserves back up to the billion-dollar vicinity, satisfying the credit rating agencies and sound fiscal practice more generally. This "is really no accident," resulting from the General Assembly purposely low-balling its revenue forecast, he said.