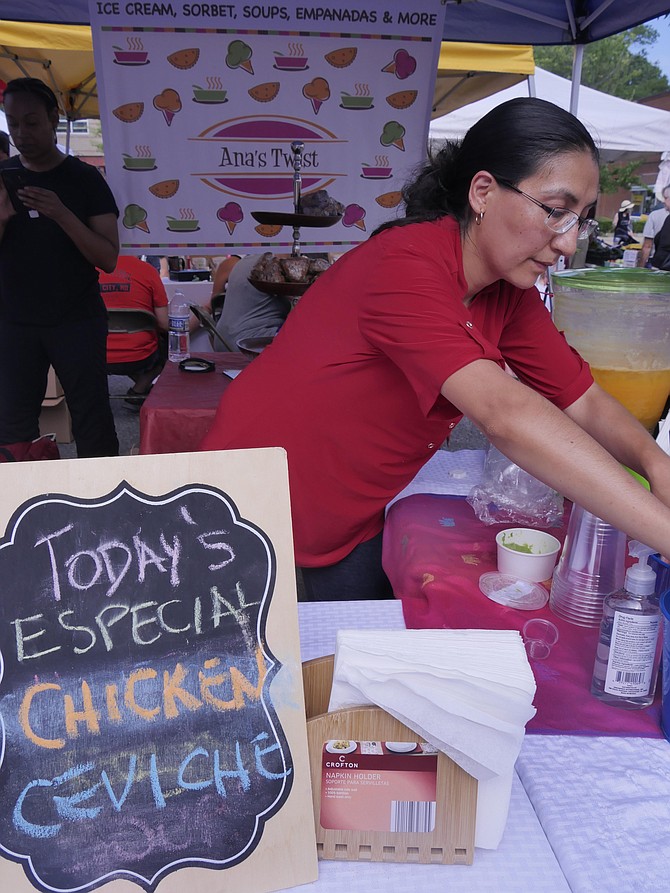 Ana Garcia has been up since 5 a.m. making her passion fruit-peach juice for the Del Ray Farmer's Market. "I make it fresh every day from organic ingredients. The passion fruit is from Ecuador and the peaches from Pennsylvania." She says this is the flavor for the week. "In Ecuador we drink juice for lunch and during the day." Her five-year-old daughter's favorite is the blackberry. "And we also export soursop from South America. It is a green fruit which is white inside." Americans might know it as guanamina.
A woman walks up carrying her one-year baby and investigates the choices. Garcia offers a small plastic cup with a sample of the juice. The baby gulps down the juice and points for more. Garcia offers customers tastes of her juices, soups and "sor-bets."
"People are adventurous and want to try things. They get impressed with the combinations." For instance, one of the most popular sorbets is the kale, passion fruit and pineapple combination or the chocolate with rose petals. Garcia says she learned to make sorbet from her mother in Ecuador where she ran a family business.
The stand also offers empanadas and ceviche. The small display board advertises today's especial "chicken ceviche."
"This is traditional for people who don't like seafood." Garcia says she packs it in the morning to keep the flavors. Most of the soups are vegan with the most popular the tomato, fresh basil and green plantains.
Garcia says she offers chicken, ground beef and vegetable empanadas, which she makes herself. All of her recipes are Ecuadoran. A regular customer steps up and ponders whether to order four chicken or a combination pack this week. The chicken empanadas are made with free-range chicken breasts, chopped carrots, peas, red pepper and just a little chopped onion to give them flavor, all ingredients from local farmers. The vegetable choice is made with "quinoa and local veggies. People know I have good stuff, real and natural." Garcia said mothers often buy empanadas to pack in their children's school lunches because they taste good.
Garcia explains she learned to make empanadas from her grandmother. "She turned 100 on the 25th." Garcia says she grew up with her grandmother. "We lived very close. She can breathe, walk, do everything by herself. She always told me the secret is to eat healthy." Garcia says her grandmother cannot live without fruit. "She eats it everyday. Both my mom and my grandma are good cookers."
Garcia is nestled in a small spot in the middle of the Del Ray market where she shares a regular place every other week. "But somebody left the spot so she will now have her space weekly. Garcia says she and her husband started with three locations and now travel to 11 farmer's markets. "My husband is at King Street now." The juice is popular on this hot Saturday as a woman who has biked from Arlington and a man with children in a red wagon wait their turn for a large cup.
Garcia's family all still live in Ecuador but her husband's family all live in America. They came to this country many years ago for better jobs. Garcia says their family always celebrates the 4th of July at the Ecuadorian Embassy.
People at Work is a regular column focusing on people in the community doing their jobs. Suggestions may be sent to slrbc@aol.com