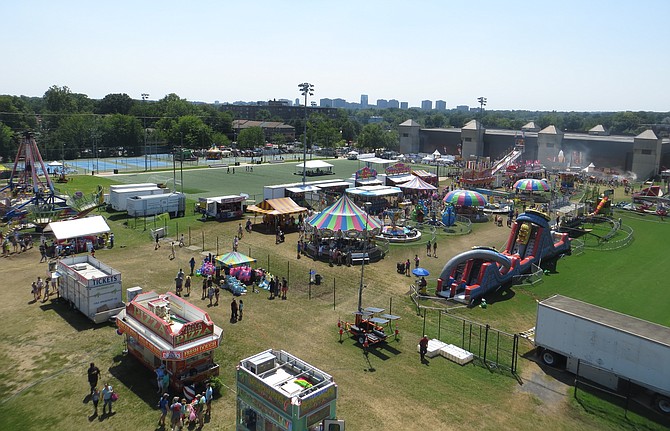 It's that time of the year when piglets bump rumps racing around the dirt track. Fresh peaches are simmered into award-winning jam. Shuttles move back and forth between Pentagon City, Virginia Square and the Arlington Career Center to the Arlington County Fair at Thomas Jefferson Community Center. This is where it all comes together with a blast of sounds, whiffs of international foods, blue ribbons, dancing to sycophantic beats, and goats racing by.
Where to start first? Maybe an indoor hip hop lesson or a performance of 40 Miles Homes bluegrass/Indie on the outdoor stage. Harmonize with a barbershop chorus, shuffle with the Calico Cloggers on the indoor stage. Or jump on a pony (if you are a child) and trot around the track. Then head over to the Kid's Court for Lucky Stars Puppets or the flying rabbits of Drew Blue Shoes Magic.
Already hungry? Curiosity, rather than good judgment, leads to a taste of the deep-fried pickles. The food trucks offer a variety of international choices from International Grill Company with beef, lamb and chicken gyros, Family Grill with teriyaki on a stick or Yummy Food Corner and Grill's Okonomiyaki (savory pancake.) Or stick with the old favorite powdered sugar-sprinkled funnel cakes at MacBrand Foods or snow cones at the Royal Creamery. Or if you just need a water or soda, Bunny and the Bear Food Festival will fix you up.
The County Fair opens Wednesday, Aug. 15 at 5 p.m. and runs until Sunday Aug. 19. The Thomas Jefferson Community Center fairgrounds are located at 3501 2nd Street S. There is no parking available on site but regular shuttle runs are provided and there will be free bike valets on the tennis courts.