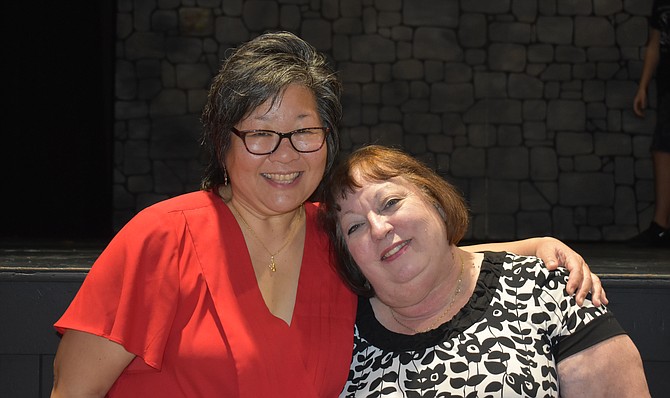 When Kathy Splitt's daughter made it into a Vienna Youth Players show, Splitt was at first content to just be a parent. Then one of the producers, knowing her talent, suggested Splitt be a keyboard accompanist for the productions. Director Babs Dyer said she soon realized Splitt could be more than just the accompanist, and she made her the musical director.
This summer is Splitt's 20th show with Vienna Youth Players, and she said she couldn't be happier with the way she has spent these years.
"Outside of my family, this is the thing in my life that I'm most proud of, and I will always be so grateful to Babs for giving me this opportunity," Splitt said. "She just took a chance on me. It worked out great, and then – bam! – 20 years, 20 shows later, it's been really a life-changing experience."
Out of these 20 years was born a deep friendship between Splitt and Dyer. This year, both directors are retiring after this summer's production of Walt Disney's "Beauty and the Beast."
After 26 years for Dyer and 20 for Splitt, they each decided it was time to relax in the summers. Dyer is excited to be able to spend more time with her grandchildren.
AS THEY DIRECTED side-by-side, Dyer and Splitt became close friends and grew to admire one another.
"I would say [Dyer] definitely has a vision, and I love this about her. And I'm always inspired and surprised by her innovations," Splitt said. "But why I've been able to do this for so many years is that it's almost like she's a parent first, because she really loves the kids, and I love watching her work with them."
Dyer has been able to connect with the young thespians since she started Vienna Youth Players in 1993. Splitt said Dyer will sometimes cast kids who might not have had the best audition, because she "feels they need to be there" in the community, which the directors strive to make a safe haven. Dyer likes to show kids and parents alike that they can do things they didn't know they could.
Fight choreographer McKenna Weipert, who began her time with Vienna Youth Players in 2008, said Dyer "has always been the rock of the group."
Just as they support the kids, Dyer and Splitt support each other whether or not they are at work. They will bring coffee for one another at rehearsals, and Splitt said they can call each other if they ever need anything. Above all, Dyer and Splitt have a good time together.
"There's a lot of fun in our friendship. We have a lot of adventures that we've been through together," Dyer said.
Both Dyer and Splitt look back favorably on their time spent at Amphora in Vienna after rehearsals, talking about life sometimes until midnight.
"Sometimes it's just the two of us and sometimes it's a group of us, but we just go there and we laugh about things that are happening and we catch up on the other parts of our lives," Splitt said. "I really value those times."
Now that they are retiring, the directors realize they will have to work harder to keep in touch and maintain their friendship, but they know it is possible.
"I will never lose Kathy as a friend. Kathy and I will always get together; I am absolutely positive of that," Dyer said.
OVER THE YEARS, the directors have put on shows including Fiddler on the Roof, Jesus Christ Superstar and Hair most recently. This year's production of Beauty and the Beast has a large cast of nearly 45 people and is a children's show with a cast of kids, which brings the program back to its roots, Splitt said.
"I feel like this is a really great show to go out on," Splitt said. "It's like our big last hurrah."
The remaining showtimes of "Beauty and the Beast" are 7:30 p.m. Aug.10 and 11 and 1:30 p.m. Aug.12 at the Vienna Community Center. Tickets are $15 each and may be purchased at viennava.gov/webtrac or at the community center.