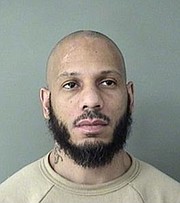 On July 31, Jason Allen Johnson, 39, pleaded guilty to 2nd degree murder, use of a firearm in the commission of a felony and violent felon in possession of a firearm for the Feb. 19, 2017 homicide of Michael Gray in the Williamsburg neighborhood. He received a combined sentence of 23 years in prison.
At approximately 3:22 a.m. on Feb. 19, 2017, Arlington County Police responded to the 6300 block of N. 29th Street for the report of shots fired. Arriving officers located one male victim suffering from a gunshot wound and immediately began performing CPR. Arlington County Fire Department medics transported Michael Gray, 23, of Manassas, Va. to Inova Fairfax Hospital where he died from his injuries.
The initial investigation revealed that the shooting resulted from a dispute that took place during a party at a residence in the 6300 block of 29th Street N. Following witness interviews and review of crime scene evidence, charges were sought for Johnson. Johnson subsequently fled the area, initiating a search by the Arlington County Police Department and the United States Marshals Service.
At approximately 4:10 p.m. on Oct. 24, 2017, Johnson was arrested in the 2700 block of Broadway in Manhattan for shoplifting. During that investigation, it was determined that he was wanted for first degree murder in Arlington County and on a District of Columbia Superior Court Warrant for failure to appear on a possession with intent to distribute a controlled substance — cocaine charge. He was subsequently extradited to the Commonwealth of Virginia.
Arlington County Deputy Chief Daniel J. Murray, commander of the Criminal Investigations Division, said, "Mr. Gray tragically lost his life to a senseless act of violence by Jason Allen Johnson. This sentence is a result of the commitment of our detectives to continue to pursue this case and hold Johnson accountable for his actions, despite fleeing from the Commonwealth. Although nothing will return the victim to his family, we hope this sentence will provide closure to the victim's family knowing that this violent criminal will be behind bars for a significant amount of time."
This case was investigated by Homicide/Robbery Unit Detective J. Trainer and prosecuted by Assistant Commonwealth's Attorney Cari Steele.