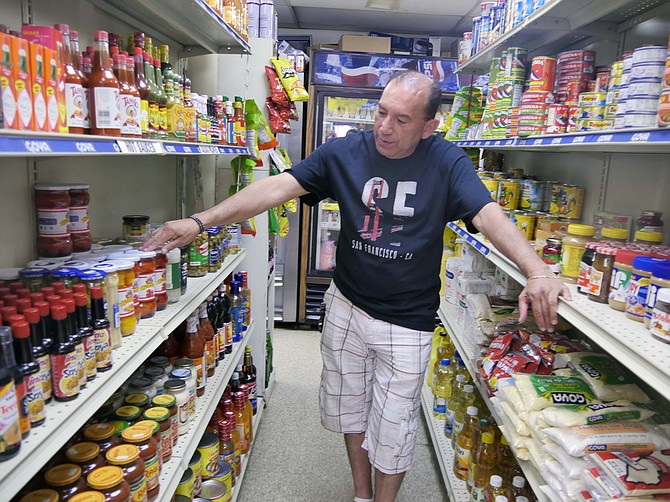 Gabriel Delcid (the customers call him Gabe) won't forget the date when he opened La Union Grocery on a corner in Arlington on Feb. 27, 1993. "I remember it because it was special."
He left El Salvador in 1982 when he was 15 years old. "It wasn't because of the civil war. That came later. There were 10 of us total and all but my younger sister and mother and father were in America."
Delcid started washing pots at Pier I on the waterfront, then moved up to a busboy and finally a wine steward at the Georgetown Club. Then in 1992, "I was driving by here and stopped to get a soda." At that time it was a Pakistani grocery called Neighborhood Grocery. "It was only this front part. There was a big wall there."
Delcid got to know the owner. "Sometimes the owner would go in the back and pray, and I would watch the register." One day the man told him he wanted to sell the grocery. "I'd never owned a grocery store before. We went back and forth and finally one day I asked him how much he wanted." He told Delcid $100,000. "I said, 'Are you crazy? Who will give you that? There is nothing here.'" They kept talking and finally on Feb. 27 they made a deal.
So how do you start a grocery? "Well, you see that was the question. My brother-in-law and I debated how to name the business. Finally we came up with La Union because that's the department we came from in El Salvador."
He remembers the first thing they bought was plantains. "We put them here." He motions to the front window. "Then we tore down the plywood wall and started adding vegetables." Now the shelves are full ranging from black and red beans and maiz chulpe grano on the bottom to Duncan Hines lemon chiffon cake mix on the top shelf. Hard taco shells sit beside Chao Mein and instant potatoes with mojo sauce on the bottom shelf.
He says now they stock everything from salsa lizano from Costa Rica to medicine from Central America, Toña beer from Nicaragua to chicha limeña, a Peruvian drink made with black corn. "Just put an ice cube in that baby." Delcid said, "we have a little bit of everything from Central and South America and Caribbean." His wife, his right hand, helps with everything.
He says, "I would say recently every month that a customer requests something he can't find so I track it down. We have more beer than 7-Eleven from all these different countries."
In 1999 he and his brother-in law opened La Union Restaurant on Wilson Boulevard and also put a deli in the grocery. Delcid said in the beginning they had a few things like chicken in the butcher case. Today's customer favorites are fajita meat, short ribs and chorizo.
A customer volunteers he has bought fajita meat there for a cookout for 100. Tonight he is looking for something to take home to his wife for dinner, and also grabs a bottle of mojo sauce. "It's hard to find." Delcid says he has a customer who was there on day one but who has moved to Sterling. "He still comes back for the fajita meat."
"And, you know, you have to have chorizo in a Latin cookout. You eat it as an appetizer, wrapped in a tortilla and drink beer." They also added tamales, pupusas, enchiladas and soup. The customer favorite for lunch is the veggie enchilada — shredded cabbage with tomato, hard boiled egg, slices of jalapeño pepper and queso fresco on a tortilla handmade at the restaurant.
A customer stops in to get a pack of cigarettes and they have a conversation about what a pack used to cost when the business opened. A construction worker stops by on his way home. Today he buys tamales and Ducal canned refried beans from Guatemala. "He gets whatever he needs. Every day he does the same thing." He says today the customers are about half American and half Latin American and other countries.
Delcid says, "We are a one-stop place. We have Western Union, notary, you can make your utility payments and you can be a millionaire." He says, "just buy your loteria y mucho mas here and Mr. Delcid will give you the lucky one."
This is the third in a series focusing on immigrant-refugee owned businesses in Arlington.