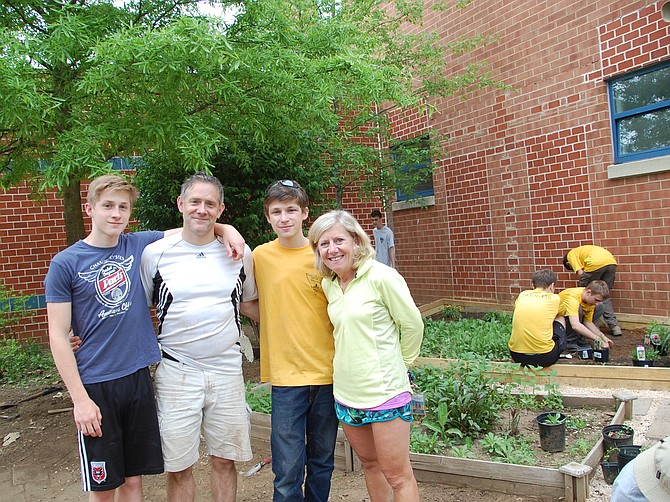 For his Eagle Scout project, Caleb Himes, 17, of McLean built a Monarch Waystation at Kent Gardens Elementary School, designed to protect and nourish the monarch butterflies during their annual migration to Mexico.
"We found that Kent Gardens would be the perfect place because the third-graders study the cycle of the monarch butterflies. That helps their curriculum as well as the migration," said the son of Michael and Paige Farrington-Himes.
The rising McLean High senior started planning the project in August 2017 by creating a map of the garden on Google Drawings and taking lots of pictures. He made supply runs to purchase the necessary wood, topsoil and mulch. And on May 5, 2018, with the help of 12-13 scouts, they spent six hours building the 150-square-foot garden that will grow purple coneflowers, milkweed, and Joe Pye weed measuring 5-6 feet fall.
He said he wouldn't have been able to finish the project without the support of Kent Gardens Principal Holly McGuigan. "I feel accomplished and happy that I have helped the community of monarch butterflies and Kent Gardens Elementary," said Caleb, who spent seven years as a young elementary student there.
Last weekend, as he was finishing up installing a sign and plaque for the project, he saw a monarch butterfly visit the garden as he was doing weeding. He will have his official Eagle Scout Court of Honor sometime in September.
At McLean High School, Caleb is a member of the National Honor Society, and an active member of the Youth Advisory Council through the Safe Community Coalition. He has been a trumpeter for the MHS marching band since his Freshman year, and participated in the Cavalier Marching Band Leadership Camp this summer at UVA. He is looking at several colleges to attend in Virginia with strong programs in International Relations and Computer Science, and is also considering out-of-state schools.
His trajectory as an Eagle Scout began as a Cub Scout at the age of 9 in Troop 1127, and he became a Boy Scout with Troop 128 in the year 2012. Over the years as a Boy Scout, he has learned a great deal about the importance of leadership, teamwork, and the virtues of living by the Scout Oath and Law.
Besides being active in his scouts, he is also active in McLean Presbyterian Church, where he spent two weeks in Scotland last year on a mission trip in partnership with Young Life, and a week this July in Chattanooga, Tenn., serving widows and the elderly with house and yard maintenance projects mowing lawns, painting fences, picking up garbage, etc. He is also a group lessons coach for his summer swim team (ages 3-6) at McLean Swim and Tennis Association.
The Monarch Waystation will provide milkweed and shelter for monarch butterflies during their Spring and Summer breeding season, and it is certified through MonarchWatch.org and included in the International Monarch Waystation Registry: https://www.monarchwatch.org/waystations/index.html.