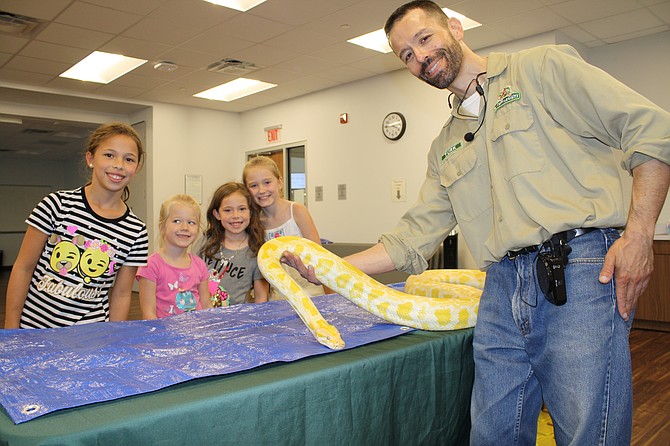 Springfield — Petting "Flash," the albino Burmese Python was done with one finger, but it was still described as "soft," or "squishy," said sisters Harper and Jillian Gillespie,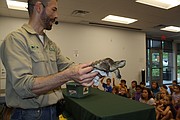 who were in the room at the Pohick Regional Library for the "My Reptile Guys" show, an afternoon event which featured snakes, lizards and turtles. "It was my first snake to pet," added their friend Reagan Silver.
The girls were among a crowd of 6-12 year olds at the library to see Turk Ozerol handle the reptiles and discuss their habits and diets. First one to come out of plastic storage boxes was "Fred," the Bearded Dragon lizard, which one of the boys in the audience identified. "They all have names like we do," said Ozerol.
Included in the show was Sara the Red Eared Slider turtle, Skippy the Black Rat Snake, Doodles the Ball Python, Little Hercules, the snapping turtle, and finally Flash. Ozerol intertwined lessons as he showed the reptiles, and even a little bit of environmental stewardship for the group. Doodles the Ball Python for example, was from West Africa but are now all over the Florida Everglades eating the alligators. Then there was Little Hercules, "he is like a vacuum cleaner of the pond," Ozerol said. One girl in the audience could relate, and saw some of the same turtles at Burke Lake, she said.
The Bearded Dragon "eats a variety of roaches, crickets and various vegetables," said Ozerol. "In this air conditioned room, he gets cold." Skippy the Black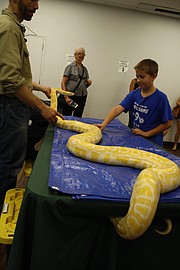 Rat Snake "is actually our friend," he added, and that's because he is known to eat rodents. "He swallows it whole," he added, and that brought out the giggles whispering in the crowd.
The reptile show at the library was part of the summer schedule of events at all the libraries all over the county. Ozerol's stop at Pohick was his 20th library visit this summer. Other entertainment events include puppet shows, painting lessons, dance, movies and more for county residents. A lively Jack Russell Terrier show at Pohick in June was a hit.
Fairfax County Library spokesperson Mary Mulrenan looks at the learning events in the libraries as a part of their programs. "Anything that gets the people into the libraries is an advantage," she said. Throughout the year, they have a "myriad of opportunities," she added.