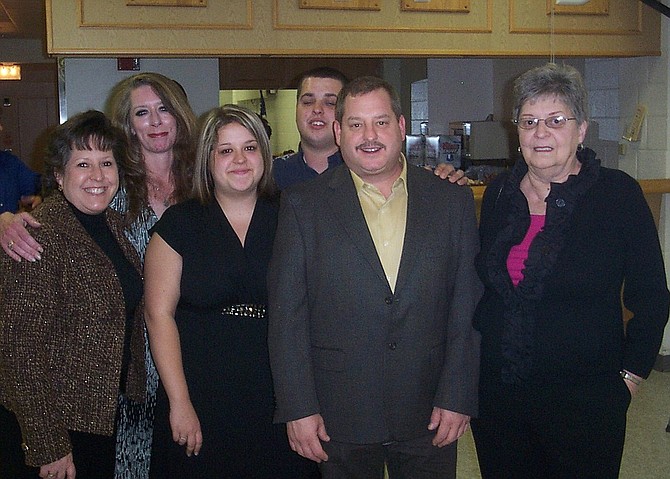 Longtime City resident and community activist Dee Schmidt died Sunday, July 29, at age 78, after a long battle with cancer. But she will continue to live on in the hearts and minds of all who knew and loved her.
"My mother was truly a special person," said her daughter, Ellie Schmidt. "She was a loving mother, grandmother and great-grandmother and taught us well. She always put her family first."
And, said Schmidt, "While some thought her to be critical, she was really pushing for her children, grandchildren and the people she worked with to be the best that they could be, to make the community the best it could be. She instilled in us the importance of community service and love of country.
"Mom did a tremendous amount of work in the community," continued Schmidt. "She was not motivated by recognition, but by making a positive impact. From the importance of historic preservation to volunteering and giving back, Mom inspired me to follow in her footsteps of service to the community." And that's exactly what Ellie Schmidt did, serving in many volunteer and leadership positions in Fairfax for more than 40 years, including four terms on City Council.
Visitations celebrating Dee Schmidt's life will be held at Demaine Funeral Home in Fairfax, 10565 Main St., on Friday, Aug. 10, from 6-8 p.m., and Saturday, Aug. 11, from 10-11 a.m. A memorial service is set for Aug. 11 from 11 a.m.-noon.
There'll be a brief, private, graveside service with family, followed by a reception at the Fairfax Volunteer Fire Station, 4081 University Drive in Fairfax. Schmidt supported Inova Schar Cancer Institute and the Fairfax Volunteer Fire Department and would be pleased with contributions to both.
Obituary
Dee Schmidt's official obituary, written by her family, follows:
Born May 21, 1940, to the late D.C. and Margaret Ransone, she's survived by her brother, Dennis Ransone; children, Eleanor Schmidt, Roderick Schmidt and Bridget Shepard; grandchildren, Roderick Schmidt Jr. and Jessica Thornton; great-grandson Harrison Thornton and Swedish son, Henrik Johansson.
Dee Schmidt mainly grew up in the Kansas City area. After attending college in Colorado, she and her husband had three children and moved to Fairfax City in 1969, Dee immediately became involved with the community when she joined the George Mason Junior Women's Club. She served as president and in other leadership roles and received recognition for many of the club projects she led.
Dee later transitioned to the Woman's Club of Fairfax where she continued her community service through club projects to include helping coordinate the Fairfax City Bicentennial Ball celebrating the nation's 200th birthday. As a club representative, she was actively involved in establishing the Interservice Service Club Council in 1977.
In recent years, she served in several, Woman's Club leadership positions, including president. She coordinated the establishment of the club Website and Facebook presence and also served on the fundraising committee that's produced successful fashion shows to fund its scholarship program.
Always keeping a watchful eye on Fairfax City happenings, Dee expanded her service to the community by getting involved in Fairfax City boards and commissions. Beginning with the Community Appearance Committee, she worked to increase focus on cleaning up the community and preventing litter, while helping the City establish the original recycling center on Pickett Road.
During this time, the City received its first recognition from Keep America Beautiful and Keep Virginia Beautiful. Dee was then appointed to the City of Fairfax Planning Commission, serving from 1976 through 1994. She was chairman for many years and was quietly amused by a political cartoon in a 1989 Fairfax Connection depicting her as "Batman" during the transition to televised Planning Commission meetings.
Always keeping the greater good of the community at heart, the necessary needling of local politicians – with the goal of keeping them in line – was a service she provided, without public recognition or compensation, besides a bit of private pride (and sometimes, amusement).
Some secrets go beyond the grave, but mysterious happenings in City of Fairfax political lore may or may not have a connection to Dee Schmidt. She appreciated the art of tossing balls in the air and watching to see where they landed.
Besides her community service, she was always involved in volunteer activities relating to her three children. Among other things, she served as room mother, Girl Scout leader, Cub Scout den mother and Fairfax Little League snack-bar coordinator while her children were in school.
Planning and development were always a passion. Beginning her career in the late 1970s, Dee was employed at local law firms in the area of commercial and residential real estate. After working for a commercial lending institution, she joined a real-estate development company before retiring 10 years ago.
Her adventurous spirit never dulled, and she found great joy in travel, especially to Europe and to Christmas markets to hunt for treasures and to sample the warm, mulled wine. She enjoyed the theater and availed herself of the Washington, D.C., offerings, from old-time classic like "Camelot" or newer productions of "Kinky Boots" or the "Book of Mormon."
Dee was a loving mother, grandmother and great-grandmother. She always put family first and truly enjoyed big, family gatherings. She could be hard to predict but was absolutely one of a kind and will be missed by her friends and family. She found the perfect balance of proper and irreverent; and those who knew her well knew she carried that balance with dignity and grace to the end.