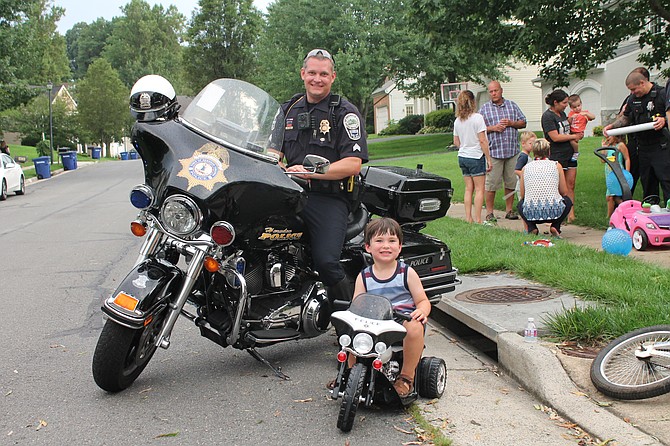 With uniforms pressed and vehicles shined the Town of Herndon Police Department (HPD) kicked off the 35th Anniversary National Night Out 2018. First stop, Herndon Harbor House at 910 Jorss Place located behind the Fairfax County Herndon Senior Center. There, residents greeted local law enforcement. Herndon's finest in blue arrived with the Herndon Police Citizens Support Team and Agents from United States Customs and Border Protection based in Sterling. Little did the department know what was going to happen next and the gift about to be bestowed upon them by the appreciative seniors.
Herndon Police Chief Maggie DeBoard expressed her gratitude to those gathered at Herndon Harbor House after receiving the resident's striking Love Cup; a four-foot high aluminum foil-covered Stanley Cup of Love. "This is amazing. You are our first and best stop. We love your appreciation and support," DeBoard said, and then laughed. "Hey someone is squirting me with their squirt gun," she glared teasingly looking over at the smiling seniors.
According to DeBoard, National Night Out was started to help foster relationships in neighborhoods between a community's residents and law enforcement. It is a way, as DeBoard told in a video taken that evening and later posted to the HPD Facebook page, "A way for us to go to them. It's a great opportunity to meet the kids...and it's a great night for us."
Mayor Lisa C. Merkel, Town Councilmembers and Town Manager Bill Ashton accompanied the officers and agents who, after their visit with the seniors, divided into three motorcades, each going to a different set of locations so each group could spend quality time at a portion of the 14 block parties held throughout the 4.2-mile town.
One of the many residents out to enjoy National Night Out 2018 was Beverly Sullivan of Harbor House who gave a welcoming handshake to each law enforcement officer who walked by her. "We appreciate you more than you know," Sullivan exclaimed as she shook as many hands as she could. "We are behind you completely,"
Seven-year-old Tia Tuffour from Reston watched from the sidelines. Eventually, she walked up and spoke with Sergeant Sean Merritt. This was Tuffour first time talking with an officer she said. Asked what she thought about his job, Tuffour replied, "I like your job, and I like what you do. It's a very tough job because every time, there are different criminals, and that's a lot to do."

At the Worldgate Community Clubhouse, Margo Digbeu sat outside and watched the officers leave. She reflected a moment and said, "To see the police come out and shake my hand. It's a blessing, all the hard work they do for our community."
Digbeu reinforced the second component of National Night Out, one expressed earlier by Sergeant Sean Merritt HPD. The event gets the community out to meet each other, which may be, as Merritt said, even more critical. "To see the community come together from all walks of life...These kids need to see this," said Digbeu.