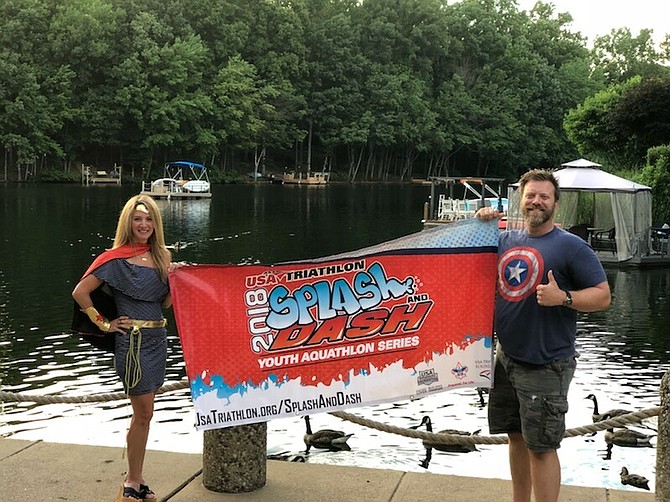 Registration is open now. The CORE Foundation and Reston Association created a new Aquathlon series, the 2018 Reston Youth Splash and Dash, a USA Triathlon sanctioned event, the perfect swim-run introduction for children to triathlons. Splash and Dash is scheduled for Sunday, Aug. 26, start time 8:30 a.m. Local musician Ted Graber agreed to produce the event and will be entertaining.
Splash and Dash is not a "competition" but a "participation." Organizers stress they want every child to feel like a superhero, so volunteers have been urged to wear superhero outfits, cheer and high-five all the athletes as they swim at the Lake Audubon Pool and run the race course on the nearby Reston paths. CORE Foundation believes every child should have the chance to cross the finish line and feel like a rock star.
Proceeds from the event benefit underserved youth in the community. Athletes optionally have the opportunity to give an additional donation or fundraise as part of the "Race with Purpose: CORE Cares" program.
As for distances, children 6 years old swim 50 meters and run 1 K; 7-10-year-olds swim 100 meters and run 1K; 11-15-year-olds swim 150 meters and run 2K. The event cost is $25 plus a $10 USAT annual membership fee unless the child is already a member. Registration is limited to 150 participants. Event organizers state floatation devices will be allowed, but those swimmers will not be eligible for awards, adding: if the child will use a device or has swimming anxiety or a special need, note such in the comments section at registration or contact info@corefoundation.org.

Visit the following sites for more information: Sign up your child: corefoundation.raceentry.com/race-reviews/reston-splash-and-dash; Volunteer: signupgenius.com/go/904054fa9a92fa20-20181; if you know a child who might benefit from a complimentary registration:tkohler@corefoundation.org.
The CORE Foundation is noted for helping people be the change they want to see in the world.
Founded by Doug Bushée, the CORE Foundation is a 501(c) 3 nonprofit organization that can act as an umbrella for other clubs, organizations and social entrepreneurs wanting to do good work and succeed. The organization does this by providing resources such as tax preparation and filing, bookkeeping, liability coverage for organizations and volunteers, business planning support, banking services, and more. For additional information about the CORE Foundation contact Taralyn Kohler at tkohler@corefoundation.org or visit corefoundation.org.