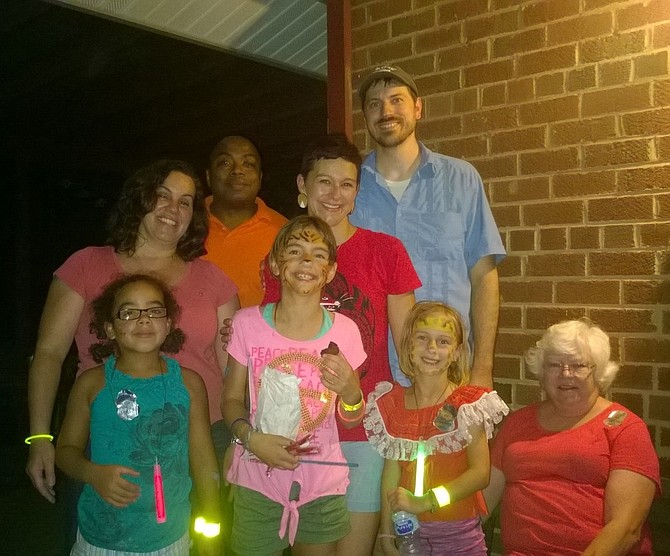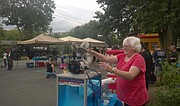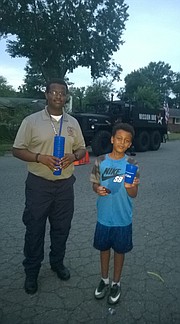 During a warm summer evening, Bren Mar resident Sue Hotto almost feels like she's one snow cone away from a heat stroke as she feeds ice into a machine.
The 69-year-old retiree and full-time volunteer has spent a couple of days running around to prepare for her annual block party the first Tuesday of August.
For more than two hours Aug. 7, Hotto has helped her neighbors in the Bren Mar community turn their quiet cul-de-sac along Indian Run Parkway into an outdoor living room with a tent-covered buffet table for their potluck dinner, and a seating area with camping chairs plus a coffee table fashioned from a folded multi-purpose extension ladder.
As soon as Hotto sets up her snow cone stand, a few boys become her first customers and a 12-year-old gives her the business:
"Can we get two flavors," he asks.
Hotto is just kidding around as she replies, "It's $10 per flavor."
THIS IS WHAT National Night Out looks like in the Franconia Police District: A team from area restaurant chain Mission BBQ serves pulled-chicken slider sandwiches from one of their military trucks converted into a mobile barbeque smoker they affectionately call "Bam Bam."
Although it's eat and run for the crew of a visiting fire truck that received a 911 call, at least half a dozen police officers chat with Bren Mar residents and throw a football in a game of catch with neighborhood youth.
Best of all for the parents: a moon bounce in which their little kids had fun wearing themselves out before bedtime. Although Hotto barely saw her toddler grandson at this year's block party, she knew he could be found safe and sound jumping around inside this ginormous inflatable playground wonderland.
National Night Out got its start in 1984, when the National Association of Town Watch distributed funds from the U.S. Department of Justice to 400 communities nationwide for block parties held the first Tuesday night in August with their local law enforcement as honored guests. Elsewhere in the country, Americans simply turned on their porch lights in support of police.
Each year as the movement grew, residents not only shed light on this particular night, they came out of their houses to sit on their front porches or join their neighbors at block parties. Together, they made their communities safer.
FOR 35 YEARS, National Night Out has helped neighbors meet each other and their local first responders in non-emergency situations. This critical component to community policing helps build safer communities and prevent crime.

Hotto and Franconia's crime prevention leader Master Police Officer A. E. Eggers said Bren Mar had problems recently with car break-ins and vehicle tampering, for which the remedy was simple:
"Lock your doors," Eggers says.
Based in Wynnewood, Pa., NATW is a non-profit neighborhood watch association with at least 16,000 communities nationwide registered for the 35th National Night Out celebration. Eggers reported 48 block parties in Franconia, which had three more than last year.
Eggers also offered residents a personal safety workshop at her station Aug. 15 that included three basic rules:
Stay alert and be aware of your surroundings.
Give the impression you are calm, confident and know where you are going.
Trust your instincts. If a situation doesn't look or feel right, it may not be.
Visit https://natw.org for tips on how to organize a block party or carnival for next year's National Night Out.
Learn more about crime prevention and awareness from the FCPD website at www.fairfaxcounty.gov/police.