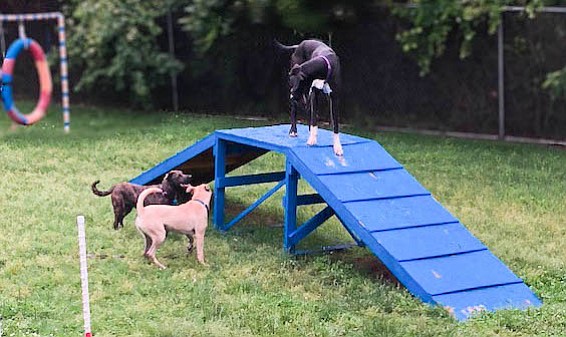 A black and white Great Dane named Top raced around the large yard at the Animal Welfare League of Alexandria (AWLA) shelter, nipping at the heels of a brindle Shepherd/Lab mix called Marble, who was frolicking with a rowdy teenaged dog named Pumpkin. They splashed in the yard's plastic pool to the tune of barked greetings from other dogs. It was their daily "playgroup."
But it was also a key moment for the AWLA staff: Observing these enrichment sessions can open a window to shelter dogs' personalities — and what they might be seeking in a future home. It's just one way that the AWLA is now learning more about the dogs who come through their doors.
"Every dog who comes to us has had a major change in his life: an owner may have passed away, or his family may have moved or he may have been rescued from an abusive or neglectful home," said AWLA Executive Director Megan Webb. "We no longer perform temperament tests. Instead, we are now focused on helping each dog adjust to these stressful life changes and learning about the dog as we do."
The AWLA is taking an increasingly holistic approach to learning what makes a dog tick, gathering information in multiple ways: details about the dog's behavior from the animal's previous family; staff notes starting with the day the animal first arrived at the Vola Lawson Animal Shelter; the AWLA veterinarian's findings; and staff and volunteer observations during playgroups and daily interactions. Webb said that some of the previous methods of evaluating dogs, such as testing for aggression around food, have been found to be unreliable predictors of their behavior in a home; for example, some animals may have previously experienced severe food deprivation and can be ravenous.
A position statement recently issued by the American Society for the Prevention of Cruelty to Animals echoes the holistic approach to evaluating dog behavior. "A dog's personality is formed by a complex interplay between his genetic predispositions, his developmental circumstances and his life experiences," the statement says. "While behavior as a whole is a reflection of personality, a dog's behavior at any given time is heavily influenced by his emotional state, his stress level and the specific environment. Thus, any single source of information should be considered a piece of the puzzle."
COMING OUT OF THEIR SHELL
Playgroups, which began at the AWLA about nine months ago, are not only enriching for the dogs but also provide information for the staff, even bringing to light medical problems not obvious during physical exams. A limp that might appear when a dog romps in the yard is reported to the veterinarian, and that detail becomes part of a larger portrait of the individual animal. Playgroups also can be a great experience for a dog coping with life changes. "With dogs who have recently lost their owners and are a bit shut down, being around other dogs can really bring them out of their shell," Webb said.
Before a dog is let loose in a playgroup, a dog-to-dog evaluation takes place. Held in the shelter's smaller yard, a lead staffer choreographs the introduction, usually starting with a dog known to play well with other dogs. The lead staffer will then instruct an assistant to introduce a new dog. The assistant will note how easy or difficult it was to move the dog out of the kennel, walk them on a leash, walk near other dogs and encounter people. The staff is on the lookout for clues: Is the new dog excitable? Social? Shy? Intuitive? The lead staffer will then instruct the assistant to let the dog loose in the yard, watching for signs of aggression or any other concerning behavior to avoid any fights.
The AWLA is also working with local dog trainers and behavior experts to expand its expertise and obtain feedback. Certified canine behavior consultant and trainer Beth Mullen, owner of Dog Latin Dog Training, is one of the many experts who have been contacted to evaluate and work with such dogs. This spring she used her slow, steady approach with Top, the frightened adolescent Great Dane, and helped him work his way to the playgroups he so enjoyed.
"I was able to get him out of his kennel and then just did nothing for a while — just let him sniff around the yard," Mullen recalled. "After about 30 minutes, I gave him a little play bow, and he started zooming around." The socialization process continued at Top's gradual pace, reinforced by some deli roast beef and rotisserie chicken. "A week later," she said, "we were able to put a harness on him, and we finished his medical work, one vaccine a week. He's a 'love' with other dogs now and has come a long way with people."
Behavior expert Kevin Gilliam, co-owner of Alexandria-based Frolick Dogs, also lent a hand with Top. The staff had noticed Top's discomfort with men, so Gilliam helped them evaluate the severity of the discomfort and, with that information, to begin to overcome his fear. After three or four sessions, Top and Gilliam became fast friends, demonstrating that with continued patience and training, Top's fear likely could be overcome.
GETTING ON THE SAME PAGE
Mullen, who also fields some of the behavior-related calls that come in to the AWLA, says the most important advice she has for dog owners is to create a predictable routine for the pet and to learn to read the animal's body language. "We're so excited about a new dog or cat, we sometimes want to hug and kiss them," she said. "But they don't do things that way until a relationship has been created, and even when a relationship is made, most of the time our dogs just tolerate it."

The AWLA is careful to point out to potential adopters that behaviors seen in at the shelter may differ from an animal's behavior in the home. No matter how much attention an animal is given, the shelter environment can be stressful, and behaviors they exhibit when worried might differ from those displayed when they are comfortable. However, the multiple touch points now included in the AWLA evaluation process allow the staff to get a more complete picture of an animal's personality.
The expanded evaluation process has paid off for Marble and Top. Marble, the Shepherd/Lab mix, had arrived at the shelter terrified but bursting with energy. He gained new confidence during playgroups and has since been adopted to a home with another dog and is thriving. Handsome Great Dane Top has found a new home — and has a canine roommate who loves to play just as much as he does.
The Animal Welfare League of Alexandria, which operates the Vola Lawson Animal Shelter on contract with the City of Alexandria, is an independent, local, 501(c)(3) non-profit organization. The AWLA is committed to ending animal homelessness, promoting animal welfare, and serving as an educational resource for the City of Alexandria community. More information is at AlexandriaAnimals.org.