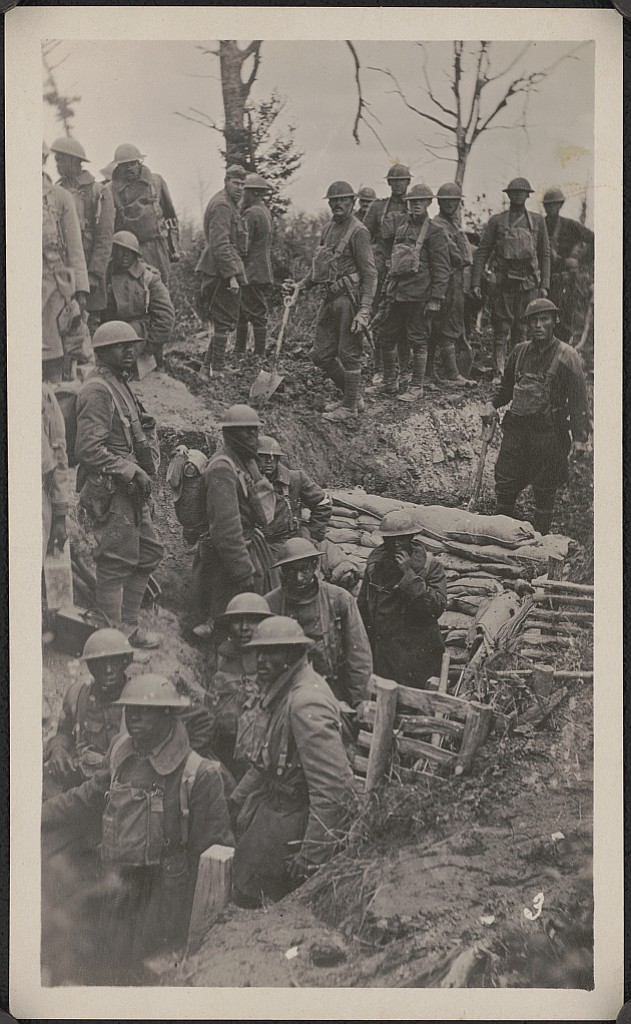 Eugene Thomas Shanklin served in the United States Army in World War I (WW I). He was drafted and sent to Camp Upton, N.Y. for his training in April of 1918. While he was at Camp Upton, Eugene was assigned to Company G, 367th Infantry Regiment, 92nd Division under the command of Colonel James A. Moss. The 367th was a segregated Negro Infantry Regiment. The French nicknamed 367th Infantry "The Buffalo Soldiers." This nickname was used before by the American Indians to distinguish the Negro soldiers from others who fought in the Indian Wars. His Company was deplored to France where he received intensive training in combat. By August 1918, 367th Infantry Regiment was bombarded with mustard gas and heavy artillery. Thirty-four American troops were wounded and gassed, four American soldiers were killed. The official military records showed that the 92nd Division engaged in 67 days of battle in three major battles against the Germans. These included 28 days at St. Die, 7 days at Meuse-Argonne and 32 days at Marbache. Eugene survived but later in life lost his sight due to the exposure of mustard gas in France.
On March 1, 1919, Eugene was released on an honorable discharge from the United States Army. He spent 11 months in the United States Army. Eugene returned to Alexandria where he lived with his mother, Ella Henshaw-Shanklin.
Eugene Thomas Shanklin was born on Nov. 6, 1899 to James Shanklin and Ella Henshaw. He attended Snowden School for boys in Alexandria. During his lifetime, his family lived at several locations in Alexandria on South Columbus Street, South Fayette Street, North West Street, South Alfred Street and Queen Street; finally they settled on North Payne Street for over 35 years. Prior to going into the military, he worked as a laborer on the railroad. After his military career, he worked as a chauffeur and a laborer. By the late 1940s, Eugene started to experience problems with his health, he eventually lost his sight due to the mustard gas that was used in France; as his health continued to decline, he moved to a Veterans Administration facility. On May 6, 1965 at age 74, Eugene died at the Veterans Administration Hospital in Kecoughtan Station, Hampton, Va. from "hepatoma" (cancer of the liver). Eugene made his last trip home. His body was brought back to Alexandria for funeral services, and he was buried at the Arlington National Cemetery.
Eugene T. Shanklin's military career would have been overlooked if it was not for his great-nephew, Eugene Shanklin Drayton, who wanted his great-uncle's military contribution to be recognized. Although Eugene T. Shanklin was not listed in the farewell ceremonies of other veterans who were drafted, Federal and State government offices reveal his contributions in WW I. The Department of Veterans Affair's headquarters had very little information on Eugene T. Shanklin, but the Department confirmed he was a WW I veteran. Through his great-nephew's recollection of his great-uncle, the Arlington National Cemetery, Library of Virginia (Archives), the Veterans Administration Hospital in Kecoughtan, Hampton, Va., Library of Congress and the United States Army's WW I military history, Eugene T. Shanklin's military career was confirmed.
Eugene's great-nephew wanted his uncle to be remembered during this 100th year anniversary of WW I. He said, he remembers growing up around his blind great-uncle. He was told that his great-uncle was exposed to mustard gas. His uncle's productive years in life was impaired by his blindness but his nephew saw him as a World War I hero. For Eugene Thomas Shanklin and all of the WW I veterans, your service has not been forgotten. We honor you on this 100th year anniversary of World War I.
Char McCargo Bah is a freelance writer, independent historian, genealogist and a Living Legend of Alexandria. Visit her blog at http://www.theotheralexandria.com for more about "The Other Alexandria."