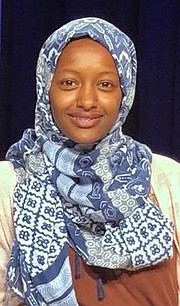 A Note
This summer, Senior Services of Alexandria participated in the city's TeensWork! Program for the first time. We were very fortunate to be assigned a wonderful student from TC Williams, Foziya Mohammed. She has been a wonderful addition to our staff this summer, helping with office work and supporting our volunteer and information programs. We wish her the best as she prepares to go back to school next month, and we are very grateful for her hard work, enthusiasm and professional attitude. We asked Foziya to describe her experience working with SSA, and wanted to share her comments with the community.
— Mary Lee Anderson, Executive Director, Senior Services of Alexandria
I started my internship with Senior Services of Alexandria, as part of the city's Workforce Development Center's Teen's Work Program, in early July. Before that I had never heard of Senior Services or what they offer to senior residents.
Over the past two months, I've had the opportunity to participate in most of the programs they offer. One of them is called Meals on Wheels where volunteers deliver meals to seniors who can't prepare their own food. I helped to update daily route sheets and was onsite to get first-hand knowledge of how the program works.
Another program is Groceries to Go. Program Manager Sandy Freedman is in charge of the Groceries to Go Program that delivers groceries to seniors who have a hard time shopping for themselves. She calls the seniors to get their orders and then gives it to volunteers to shop for the seniors and deliver the groceries to their house.
The last program I've learned about is the Friendly Visitor Program where Mary Giordano, who is in charge of the program, matches up volunteers who are interested in visiting seniors once a week for one hour. This program is helpful to seniors because they develop a relationship with the volunteer and have someone to talk to.
I also helped prepare materials for the Fall Senior Academy class, and general office work.
Although my internship is coming to an end, I plan to volunteer and help anyway I can. If you want to volunteer or are interested in the services of SSA, visit the website at seniorservicesalex.org. I've had a wonderful experience interning at SSA, and I've learned a lot. I'm very grateful for the staff of SSA for being nothing but nice and generous.