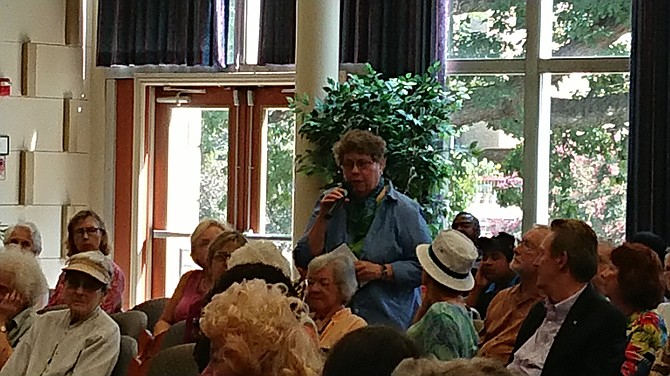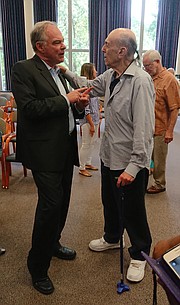 "This was an important meeting for all of us to attend." — Audience member Cindy Courville
The Hermitage Northern Virginia hosted U.S. Sen. Tim Kaine Aug. 15 at a community meeting attended by the facility's residents and neighborhood citizens.
"This was a very informative meeting," said 92-year-old Stanley Turkel, a World War II Army Air Corps veteran. "And his comments about the Pledge of Allegiance and the oath he takes as senator to the Constitution meant a lot to me as a veteran."
Kaine had talked about the history of the Pledge of Allegiance and noted that as a member of Congress his oath is to uphold the Constitution of the United States, not to support any particular president or political party.
"As a senator, I take an oath to 'support and defend the Constitution of the United States against all enemies, foreign and domestic,'" said Kaine in quoting a part of the formal oath of office all members of Congress take when elected. "That's very powerful and I take that oath seriously."
For nearly two hours, attendees asked questions ranging from the upcoming Supreme Court confirmation hearings for Judge Brett Kavanaugh to Russian hacking and diplomatic relations between the U.S. and North Korea.
The subject of Medicare was brought up when Kaine was asked why the health insurance program does not cover hearing aids.
"I don't know why hearing aids are not covered," Kaine replied. "Technology continues to improve and costs come down. It's an obvious omission in a really important program."
Virginia's Real ID guidelines, the national opioid crisis and services for veterans were also part of the discussion.
"I learned a lot today," said Cindy Courville, who was in the audience. "This was an important meeting for all of us to attend."